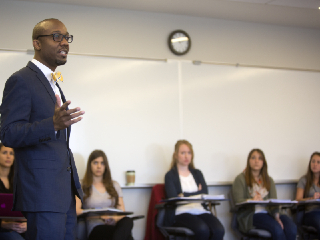 In community engaged learning courses, experiences are employed as a learning resource alongside readings, lectures, discussions, or labs. Community engagement is integrated into the syllabus and classroom approach and is therefore required of all students enrolled in the course. These courses require up to 20 hours of engagement (the instructor may offer more), robust written assignments, and reflective classroom activity.
The Center for Community Engaged Learning endeavors to support Fordham faculty in engaged learning course creation and implementation, as well as in research endeavors related to community engagement. We offer:
Faculty workgroups to support course creation
Faculty forums to support course pathways
One-on-one advising sessions
Syllabus workshops and sample syllabi
Matching with community partners
Administrative support toward course assignation and course pathways
Travel
Program fees
Materials
Speaker fees
Community partner compensation
National speakers
Biannual symposia
Do you plan to teach a Community Engaged Learning course? Please fill out the course intake form so that we can ensure the SL: Community Engaged Learning attribute is added to your course, and the Center can connect you with partnership opportunities, resources, and more.