The University remains committed and will endeavor to design and construct new buildings and maintain our historic buildings in a manner that ensures environmental sustainability. The Facilities Management Group is responsible for maintaining over 42 buildings (comprising of 4.7 million square feet) which are dispersed throughout four campuses (the Bronx, Manhattan, West Harrison & Armonk).
By building green, Fordham provides a healthier environment in which all members of the Fordham community and their guests can work and learn. The University has been recognized for its commitment to building green and several buildings on campus have gone for and achieved Leadership in Energy and Environmental Design (LEED) certification. LEED certification is often considered the preeminent sustainable building certification program in the world.
Another sustainable and increasingly used building practice is preservation and renovation (also known as adaptive reuse). Fordham's 179-year-old Rose Hill Campus in the Bronx is home to several landmark buildings, including the University Church (built in 1839) and Cunniffe House (built in 1841). These landmark structures help from the historic core of the Bronx campus and are surrounded by many other buildings that were constructed prior to the Second World War. As such, the Facilities Management Group is dedicated to carefully preserve these historic edifices and renovate these buildings in a manner that can accommodate the needs of a vibrant 21st century institution of higher education.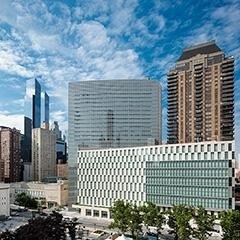 Law Building & McKeon Hall
Certification Level: Silver
Building Purpose: Law School and Residence Hall
Square Feet: 415,000
Campbell, Salice & Conley Halls
Certification Level: Gold
Building Purpose: Residence Hall
Square Feet: 172,255
Preservation and Renovation (adaptive reuse)
Hughes Hall
Built In: 1891
Building Purpose: High School and Dormitory
Current Use: Home of the Gabelli School of Business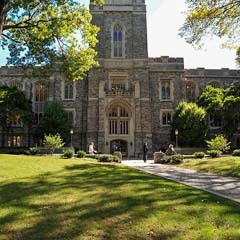 Duane Library
Built In: 1928
Building Purpose: Library
Current Use: Home of Undergraduate Admissions, the Curran Center for American Catholic Studies and the Department of Theology.