McGannon Book Prize Event: Automating Inequality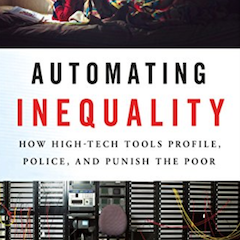 The McGannon Center at Fordham University is honored to announce that Virginia Eubank's Automating Inequality: How High-Tech Tools Profile, Police and Punish the Poor has won our book prize for a manuscript published in 2018.
We will convene two events at the end of the semester (on May 2 for our Rose Hill students in the Bronx and a public event on May 3 at the Lincoln Center campus) to celebrate the book and examine the important issues it raises. At both, Ms. Eubanks will present her work. We will also be joined by luminaries who work at the intersection of social justice and data science, including Cathy O'Neil (award-winning author), Scott Levy (Special Counsel at the Bronx Defenders), and Ifeoma Ajunwa (Cornell). We will distribute details about the events in the coming weeks
The May 2 Event will be held on the Rose Hill Campus in McGinley Center, Room 237, 2nd Floor from 1:00pm to 2:00pm.
The May 3 Event will be held at the Fordham Law School at 150 W 62nd St, in the Bateman Room from 12:00pm to 3:00pm.
Register for May 3 Event here.