Perspectives on the Relationship Between Education and the Media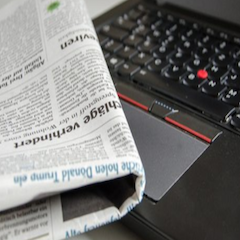 Join us and our Scholar in Residence Keith Roe will lead the discussion on "Perspectives on the Relationship between Education and the Media."
Enjoy a free, catered lunch while considering the ways education and the media effect each other.
Time: 12:30 p.m. to 2 p.m.
Date: Wednesday, December 13, 2017
Place: McGannon Center, 2532 Hughes Ave., Bronx, NY
More Info: Traditionally the dominant perspective of the relationship between education and the media has largely been based on a simple, uni-directional model of the media having negative effects on academic achievement. This seminar will explore alternative ways of viewing this relationship and their implications for policy and research.
Keith Roe is an active Emeritus Professor of Communication and former Head of the School for Mass Communication Research at the Catholic University of Leuven, Flanders, Belgium. His main research interests revolve around the sociology of communication and culture, media effects, and research methodology, within which fields he has led a large number of funded projects.