Post-Truth, Fake News and Democracy: A Critical Examination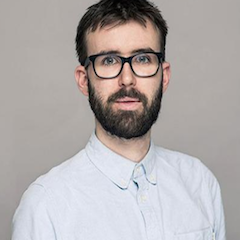 Join us on October 18th as we welcome Johan Farkas, a PhD Fellow in Media and Communication Studies at Malmö University in Sweden, as a part of our Brown Bag Lunch series. The event will take place at the Fordham Law School room 7-119 from 12:30-1:45pm.
Moderated by Mathias Klang, Farkas will present a talk entitled "Post-Truth, Fake News and Democracy: A Critical Examination," based on Farkas' new book, Post-Truth, Fake News and Democracy: Mapping the Politics of Falsehood, written with Jannick Schou and published by Routledge.
In this talk, Johan Farkas critically examines contemporary post-truth discourses by honing in on and challenging their democratic underpinnings. Through extensive analysis of scholarly and journalistic publications, the talk unpacks how post-truth discourses presuppose a certain normative idea of what democracy is and ought to be. Engaging with critical political philosophy, Farkas highlights how these democratic imaginaries neglect how democracy has never been about truth, evidence and rationality alone. It is equally about the voice of the democratic people. By neglecting this cornerstone of the democratic tradition, post-truth discourses reproduce and strengthen a risky vision of democracy – one in which consensus and rationality dominate over civic voices and popular dispute. By doing so, contemporary post-truth discourses – and the solutions they contain – might end up deepening existing democratic problems.
Johan Farkas is a PhD Fellow in Media and Communication Studies at Malmö University, Sweden. His research engages with the intersection of digital media platforms, disinformation, politics, journalism and democracy. Farkas has published on these topics in international journals such as New Media & Society, Social Media + Society, and Critical Discourse Studies. His debut book, Post-Truth, Fake News and Democracy: Mapping the Politics of Falsehood was published in September 2019. The book presents a detailed analysis of contemporary discourses of fake news and post-truth, offering both a trenchant critique and call for more inclusive forms of democracy. Farkas is currently Chair of the Young Scholars Network of the European Communication Research and Education Association (YECREA).
Website: http://johanfarkas.com
Twitter: https://twitter.com/farkasjohan