The Future of Democracy with Sam Gill: Unpacking Online Speech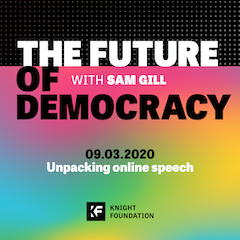 Join us this Thursday, September 3 at 1 p.m. for a Zoom webinar with Sam Gill and Olivier Sylvain.
"With the click of a button, almost anyone in the world can post their thoughts, opinions or commentary online. How can we understand speech online and the policies that surround it? On Episode 19 of The Future of Democracy, we'll hear from Olivier Sylvain, a professor of law at Fordham University. Sylvain will share his expertise as a leading thinker on the interplay of information, technology, and the law.
The Future of Democracy, formerly called VISION, is a weekly Knight Foundation show about the trends, ideas and disruptions changing the face of our democracy. Hosted by Sam Gill, Knight's chief program officer, the 30-minute program takes a hard look at the important issues our country is facing today."
To learn more, or to see past episodes, visit KF.org.