Current and Newly Accepted Students
Academic Advising for Current Honor Students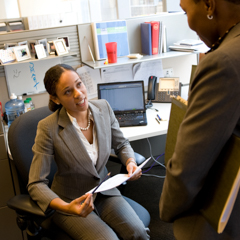 "The honors program is most memorable for the relationships it builds. I've never had the opportunity to advise college students for their full four years, and it's been exciting not only to help them grow but also to get to know them as people during a time when they're exploring their decisions and making their choices." Leonard Cassuto, professor of English.
As an honors student, you will have multiple dedicated advisers available to you. Each honors class year has an adviser that stays with them for four years. The honors program director, Dr. Frank Boyle, is available to advise honors students as well. Finally, after declaring a major, you will have an assigned adviser in your major field of study.

After your first semester, your advisers will meet with you to discuss your schedule and lift any holds on your online registration so that you are able to pick your classes through the Banner system during the week of registration. Honors students will never be blocked out of their core classes, so you will be able to register for your preferred major and minor requirements, electives, and language courses immediately as online registration opens.