FCLC Honors Program: English, Writing Intensive, Speech and Rhetoric Seminars
Honors English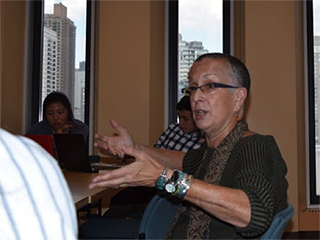 The Honors English class changes its subjects and instructor every year. Take a look at some of the past Honors English classes below.
2018 - Honors English: Urban Texts.
Dr. Anne G. Hoffman (PhD - Columbia University)
The course moves from the classroom out into our urban environment, as the honors class explores the city that they inhabit. Through study of texts that are literary, pictorial, cinematic, and historical, honors students study the diversity of life in New York City. Students work together to design walking tours of some of the neighborhoods that figure in their readings.
We consider the ways in which texts map experience, from the perspective of a developing child, an adult, and a community. Drawing on readings in structuralism and the semiotics of urban life, we study patterns of individual and communal life in the city, with attention to representations of class, gender, race, and ethnicity. Our studies take us out of the classroom into encounters with New York neighborhoods, landmarks, and cultural events.
Honors Writing and Rhetoric Intensives
During their first semester Writing Intensive course, students learn techniques for improving their academic writing. The course is designed as an intensive workshop in expository writing, with the aim of offering a precise account of the texts we'll be discussing, as well as one's own position in relation to these texts. Because the class is small, students receive individual guidance from the instructor and their peers with the intent of discovering how a student's writing affects their thinking and their thinking affects their writing. The materials discussed in this class will also overlap with work being done in other honors courses.
The Writing Intensive course will address research techniques, the conventions and principles of documentation, the art of synthesis, and analysis of sources. Students will practice revision and self-critique, as well as how to critique the work of peers. Though we'll read and discuss work by a variety of authors, students' own writing will remain the primary focus of the class.
In their second semester, students study rhetoric and public speaking. In addition to discussing rhetorical theories and strategies of thinkers ranging from Aristotle to Stephen Colbert, the Rhetoric Intensive course also considers new forms of persuasive speaking, such as digital rhetoric. Attention will be paid to constructive ways of giving and receiving feedback, taking care to be attentive to others' perspectives. The class will consider how to enter an academic conversation, to listen, to persuade and be persuaded, to ask questions, and to suggest new directions of inquiry.