Diversity, Equity, and Inclusion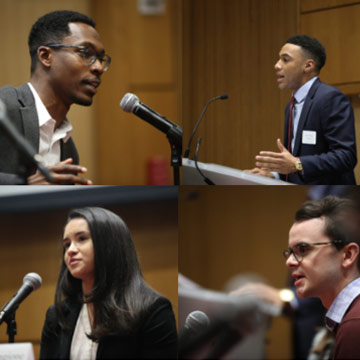 Gabelli School Diversity Mission Statement
The diversity mission of the Gabelli School of Business is to create a sense of belonging while remaining consistent with GSB's core mission of empowering positive global change and developing students into compassionate business leaders. Our charge is weaving community engagement and global citizenship into the fabric of our academic programs and campus life. This will ensure that we remain inclusive and accepting of diverse points of view, lifestyles, and personal choices that make all members of our community unique.
Gabelli School Diversity Vision Statement
The Gabelli School of Business will be recognized as the worldwide leader in socially conscious business education. It will be acknowledged as a hub of inclusivity that fosters academic and social growth in all students. Companies around the world will see GSB as a recruiting pool of diverse and talented social changemakers. We will maintain a climate of inclusion where all community members feel like they belong. The school will leverage its rigorous academics, global outlook, New York City location, and Jesuit heritage to educate students in all business disciplines with the mindsets and capabilities that enable business to move society forward.
Listening to one another despite our differences is the best way to learn and the only way to become informed leaders. To that end, the Gabelli School embraces our increasingly interconnected world by nurturing a community that seeks common ground, celebrates diversity, and prioritizes inclusion.
- Donna Rapaccioli, Dean of Gabelli School of Business
---
Diversity, Equity & Inclusion Initiatives
Fordham University, Gabelli School of Business
441 E. Fordham Rd.
Hughes Hall - Fifth Floor, Suite 533
Bronx, NY 10458
Phone: 718-817-0459 | Fax: 718-817-4999 | Email: gsbdei@fordham.edu