Corporate Communications Pipeline Program
The Corporate Communications Pipeline Program is a community-engaged-learning initiative that fosters diversity, equity and inclusion while also providing Gabelli School students with meaningful touchpoints with the Bronx community.
What is the Corporate Communications Program?
As a pilot, the Gabelli School of Business at Fordham University began a partnership with Cardinal Hayes High School in 2018 to funnel more diverse applicants into the University's admissions and recruitment process. Students in the program were exposed to the various business disciplines (i.e., finance, marketing, operations, strategy, and etc.) in the classroom. As a capstone project, program participants later use knowledge about the business disciplines to complete a consulting pitch proposal for a Fortune 500 company centered around corporate DEI strategies. The program ends with a pitch proposal competition judged by practitioners in the field. The program has expanded to include boys and girls as we strive to achieve more equity in our pipeline. A new cohort of girls and boys will participate in the program beginning Fall '20.
There were 12 participants in 2018 last, 5 of whom are currently matriculating at Fordham University. There are two CCP alums currently enrolled at the Gabelli School of Business.
The program has expanded to include boys and girls as we strive to achieve more equity in our pipeline. We've partnered with Aquinas High School, an all-girls Catholic school in the Bronx, to further develop our recruitment efforts.
A new cohort of girls and boys will participate in the program beginning Fall '20.
Mission Statement
The mission of the Corporate Communications Program is to provide NYC high schools with access to a rigorous business curriculum at the Gabelli School of Business. This will be achieved by empowering GSB students to coach corporate pitch proposals for community student teams. We are committed to stimulating academic, cultural, and social growth among all of our student participants.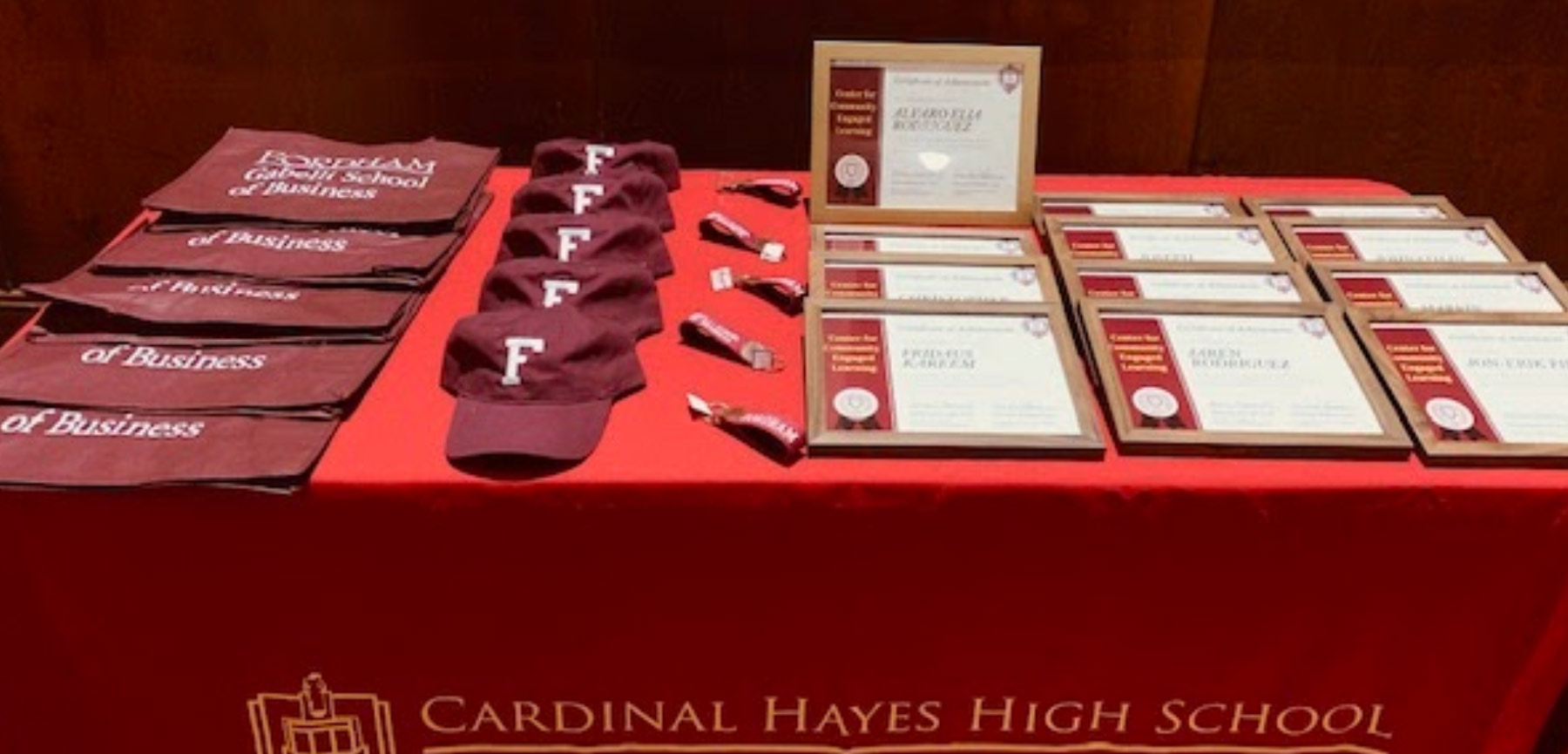 What are the CCP goals?
To enhance Gabelli School of Business students' understanding of the Bronx community while promoting academic achievement, cultural knowledge, and social growth
To provide a rigorous business curriculum to community high schools designed to foster a spirit of inquiry while promoting access and exposure to a collegiate environment
Increase the number of community-engaged-learning hours at the Gabelli School of Business
To create an atmosphere of safety, encourage relationship-building, foster collaboration, and aid the college access efforts of community-serving Catholic high schools
To help all students stay connected to the larger University system, and motivate students to become confident and productive members of the Gabelli School community
To educate GSB students about the rich cultural heritage of the Bronx, and the immense educational value of diverse perspectives
Community-Engaged-Learning:
In an effort to increase C-E-L hours at the University, the college mentors receive 1 academic credit, which is attached to the sophomore Business Communications course. (2.5 total credits)
What are the Student CCP Goals?
Exposure to basic business principles
Exposure to collegiate curriculum
Access to collegiate environment
Help with the Fordham University admissions process
Cash prize to the winning team
Mentorship from current Gabelli School of Business students
Competency in communication skills
Communications Competencies
Data Collection
Research Analysis
Advanced Writing
Group Communications
Posture/Hand Gestures/Facials/Eye Contact
Vocal Production
Aristotle's Rhetorical Criticism
Objectives
Increased recruitment, enrollment, and retention of URM students
Aid in developing "cultural competency" standardization among administration and faculty
Link students with agencies in the community for volunteer work.
The CCP has also been featured in Fordham News: School Ties in the Bronx: Fordham and Cardinal Hayes High School.
---
Diversity, Equity & Inclusion Initiatives
Fordham University, Gabelli School of Business
441 E. Fordham Rd.
Hughes Hall - Fifth Floor, Suite 533
Bronx, NY 10458
Phone: 718-817-0459 | Fax: 718-817-4999 | Email: gsbdei@fordham.edu