AR/VR Experiences at the Gabelli School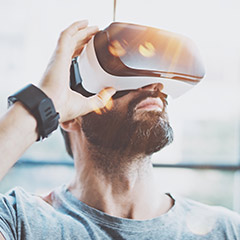 The Gabelli School of Business was among the first business schools to integrate Augmented Reality (AR) and Virtual Reality (VR) tools into its curriculum. These cutting-edge platforms are currently being used to enhance the classroom experience and offer new insights on topics ranging from team building to multidimensional data analysis.
The Gabelli School was named an MBA Roundtable Innovation Award Finalist, and a partnership with the Glimpse Group delivers the following AR/VR opportunities to students:
Exposure to the $27 billion AR/VR industry, and insight into new opportunities that are being identified at major corporations such as Microsoft, Apple, Facebook, BMW, and others
Using VR to simulate experiences that cannot be done in a typical classroom setting, such as networking and negotiating
Visualizing and analyzing multi-dimensional data sets in preparing students for immersive, 3D future of data analysis
Applications that help individuals and groups learn team dynamics and cohesiveness
Learning and practicing effective communication skills such as virtual public speaking, mixed reality presentations and recording using green screen technology
Helping students find new ways to increase the limits of human perception, make complex data more intuitive to understand, and increase retention through activation of the brain
Reducing stress with AR/VR applications that offer a temporary mental escape to re-energize focus and improve productivity
Supporting innovation and creativity by helping students find ways to incorporate AR/VR technology into business models
Enabling faculty and graduate students to conduct research studies on the effectiveness of AR/VR technology in the classroom
To date, the Gabelli School of Business has featured AR/VR educational experiences in three programs: Full-time MBA, Executive MBA, and the undergraduate program.