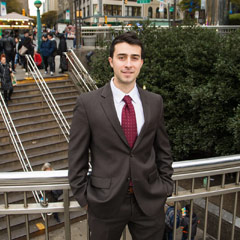 Every Full-Time MBA student begins the program with previous work experience. It is a requirement for admission, and it's what makes your Fordham classmates so interesting. Each person contributes to class discussions based on his or her own unique work history.
It may sound strange to think about holding an internship after you've already held a job.
But MBA-caliber internships are a crucial step toward the career you are planning post-graduation.
Landing Your Dream Internship
To aid in your MBA internships search, you will have access to the full slate of resources provided by the Gabelli School's Personal and Professional Development Center, staffed by full-time career advisors who specialize in graduate students' needs and are based full-time at the Lincoln Center campus.
High-ranking alumni on the Gabelli School's Advisory Board also take an active role in helping Full-Time MBA students find internships.
Our Results
More than 90% of students who sought internships for summer 2015 received placements. Where?
ADT
Audium
Axiom Capital
Bank of America Merrill Lynch
Bank of Tokyo-Mitsubishi
Cadillac
CapitalOne
Center for Positive Marketing (fellowship)
Citibank
Colgate-Palmolive
Community Access
Consortium for Trustworthy Organizations
CPG Real Estate
Ellevate Network
EY (Ernst & Young)
GE
Goldman Sachs
HR Larious
HSBC
Hyperion Wealth Advisors
Major League Baseball
PCG Advisory Group
Pfizer
PSE&G
Relativity Sports
TBC.com
Thomson Reuters
Topeka Capital
Topix Media Lab
Ultra Music Publishing
Unilever
Vanleeuwen LLC
Voya Financial
Walters Kleuwer
Zachys
Zeal NYC
And several students spent the summer launching their own ventures, either on their own or with their families.