Undergraduate to Graduate Degree Options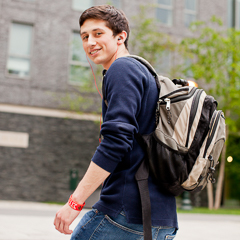 Located in the heart of New York City, Fordham Law is a vibrant, collaborative, and diverse community of dedicated faculty and engaged, hands-on students who are working together to master the law, understand its role in advancing justice, and make sure that justice is accessible to all.
Our approach combines a grounding in enduring legal principles along with emerging theories, techniques, and technologies. We're creating a community of compassionate and highly capable lawyers who have a larger goal in mind: to make a difference for our profession, society, and world.
Are you a current undergraduate student at Fordham University who has always thought about continuing your studies and obtaining your master's degree? Now, through the Gabelli School of Business 4 + 1 program, it is easier than ever to complete both your undergraduate and graduate degrees by adding an additional 7
*
-12 months.

By taking advantage of the 4 + 1 opportunity, you may be eligible to count up to six credits of your undergraduate studies toward your master's degree. A minimum of 30 credits must be taken at the graduate level. Additionally, GMAT/GRE waivers may be available, with an expedited application process and no application fee. Finally, all 4 + 1 applicants will be considered for a maximum $15K merit-based scholarship.
*Students participating in the BS/MS programs for Professional Accounting or Professional Taxation may accelerate the completion of the graduate degree in less than 12 months depending on the student's undergraduate coursework.
Fordham can help you achieve your goals. No matter your background, there's a Gabelli MBA program for you. You'll join a tight-knit community that prepares you to take the next step—at your current company, in a new city, or across the globe.
The Gabelli School of Business is proud to offer three STEM concentrations for both full-time and part-time MBA programs. To support this investment in your future, the Gabelli School has established MBA scholarships that are available to exceptional applicants.
Explore the programs in more depth and find out what a Fordham MBA means for you.