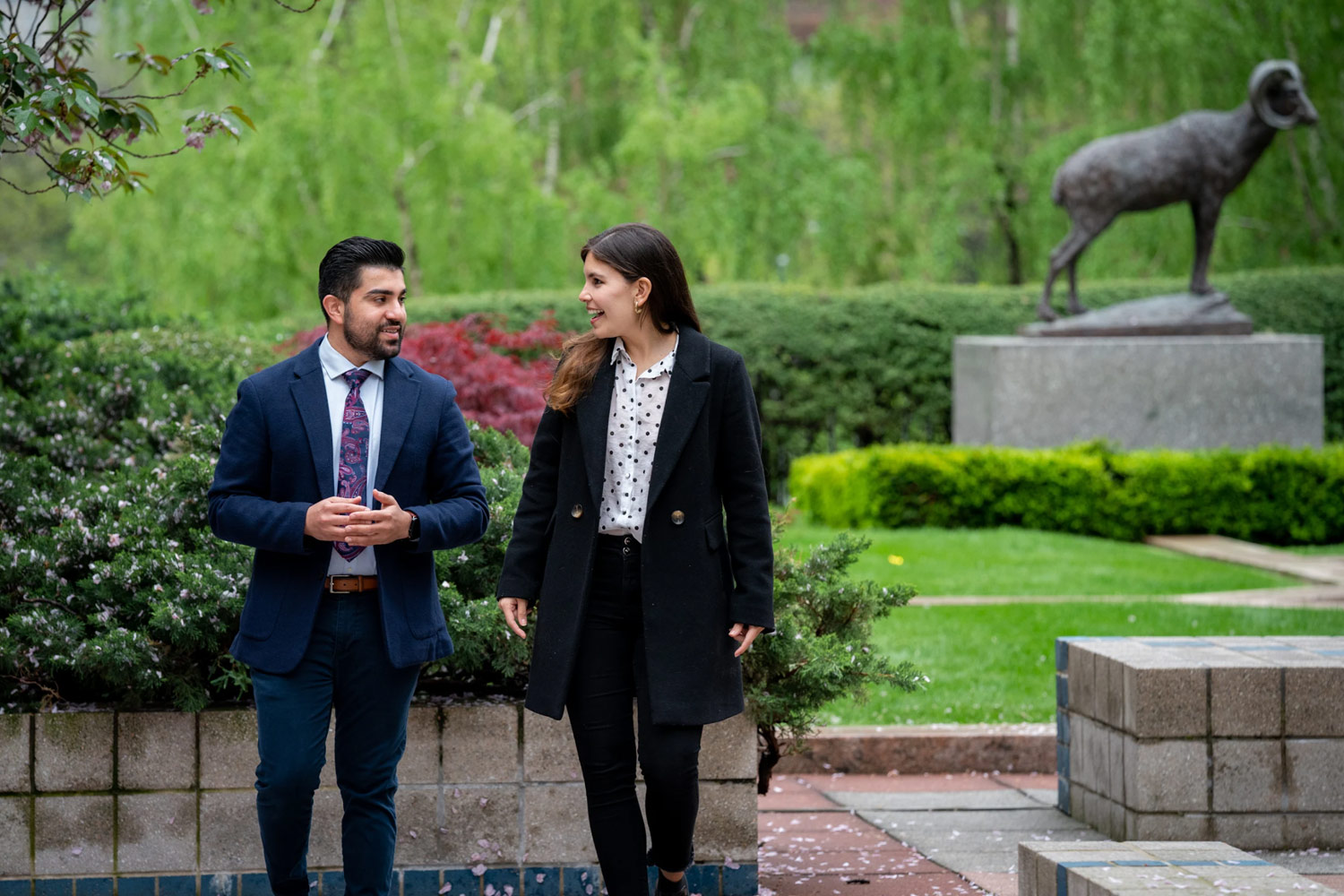 Who determines what the future of business
looks like?
You do.
As business leaders of the future, you will be the ones who:
Create jobs that allow people to find true satisfaction in their work and make a living
Adopt innovative means of manufacturing, packaging, and distribution that preserve or even improve our environment
Give people of all backgrounds and characteristics an equitable chance to succeed
Make good on companies' promises to be profitable while pursuing clean sources of energy, collective decision-making, and good governance
In all of these efforts, the Responsible Business Center is behind you. The Responsible Business Center's leadership and your Gabelli School professors are committed to making sure you have the education you need to revolutionize the coming decades for the better.
What needs to happen is large-scale, systems-level change. That's why we use a network model to make that change possible — and you are a key part of that network. Studying the principles of responsible business at the Gabelli School and participating in Responsible Business Center programs can build your relationships with executives, researchers, policymakers, nonprofit staff, and fellow students who want to work together with you to make a difference.
Consider these opportunities:
Undergraduate and graduate courses
The Gabelli School offers dozens of courses designed to enhance your knowledge of environmental, social, and governance (ESG) topics. Taking some of these courses (including ones outside your typical field of study!) can prepare you to contribute to better business decision-making from your first day on the job. See the current ESG- and sustainability-related offerings in all academic departments. See the current offerings in all academic departments.
Social Innovation Collaboratory
The Social Innovation Collaboratory recognizes that certain large-scale global problems, including hunger, poverty, climate change, and disease, are not easily solved and need a multi-stakeholder approach. The Collaboratory brings together entrepreneurially minded Fordham students, alumni, faculty, administrators, and local community members to think up innovative solutions that haven't been raised before. Learn about the teams that students can join, or come up with an idea for an issue-based team of your own.
Fordham Foundry
Do you have an idea for a startup business that would add something positive to your community, to society, or to the environment? Workshop your idea and join other like-minded students in the Fordham Foundry, the university's small-business incubator. The Foundry sponsors several business pitch competitions each year which offer seed funding to develop your company, and it is connected with an angel-investment fund that invests up to $25,000 in promising businesses founded by Fordham students and alumni.
Student organizations
Many Gabelli School student organizations are organizing activities related to ESG topics, so check with the groups you've already joined to find out what they're planning — or to suggest a guest speaker, activity, or event of your own. If you haven't yet connected with NetImpact at the Gabelli School, get in touch. There is an undergraduate chapter and a graduate one. NetImpact is a nationwide network that's focused on sustainability issues and ways of doing business that benefit the planet.
Academic competitions
Just as finance students test their skills in investing challenges and marketing students compete to develop juried marketing campaigns, students who are interested in ESG can build their skills and résumés in relevant competitions. The Wear it Wise competition, for example, is co-organized by the Responsible Business Center and the national organization Net Impact. We will post links below to competitions when we hear of them.
Responsible Business Leadership Certification
Gabelli School Master's Students have the opportunity to take part in a certification program geared towards becoming a Responsible Business Leader in today's world. The Responsible Business Leadership Certification program will help you identify your core values and build skill sets that will enable you to lead effectively and responsibly. You will cultivate a growth mindset through self-reflection and define what Responsible Business Leadership means to you. Learn more about Responsible Business Leadership Certification here.
Social media
It's not just about following us! Yes, we would love for you to do that — on Twitter, Instagram, or LinkedIn. It's a great way for you to connect with the Responsible Business Center community and keep track of what we're doing. But we're also interested in your contributions to our content. If you have a story you think we should tell on our platforms, get in touch. Please email Leigh Anne Statuto at [email protected] with a brief description of your idea or how you'd like to contribute.