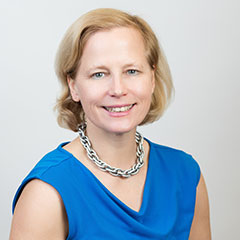 Annette McLaughlin
Annette McLaughlin is the director of Fordham University's Office of Career Services; she brings 25 years of experience in coaching, corporate recruiting, leadership training, career advice, and strategy consulting to her role. Prior to joining Fordham, she founded Career Coach-360, a coaching, training, and consulting firm that was awarded the 2014 New York State Small Business Development Corporation's Phoenix Award. She is an experienced speaker and facilitator whose career advice and job market insights have been featured on websites like forbes.com and inc.com, in Westchester Magazine, on WFUV, and in higher education newsletters.
Annette began her management career at Spherion, a global recruiting and consulting firm, where she rose to become the director of global accounts and the training, development, and partnership director for the Goldman Sachs account. She later worked as vice president of talent coaching and outplacement for The Response Companies, a recruitment firm. Her international experience includes training and executive coaching for a leading executive search firm as well as business development in Japan.
Annette is a graduate of the University of North Carolina at Chapel Hill's Gillings School of Public Health. She holds an M.B.A. in personnel and employee relations from Georgia State University, and she is a Leadership Westchester 2012 alumna. Originally from Virginia, she currently resides in Westchester with her husband, three children, and her beagle. She is an active community volunteer for education, health, lacrosse, innovation, and women's leadership initiatives that focus on her personal mission—to educate, encourage, and empower others to hear options, feel valued, and see a better future.