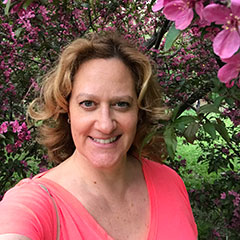 Debbie Santalesa, GABELLI '91
Debbie Santalesa, GABELLI '91, received her B.S. with honors in accounting from Fordham University before beginning her career in public accounting at Ernst & Young, where she earned her CPA. After a serious car accident followed by self-reflection, she decided to move into a more people-oriented role; she soon moved to a human resources position at a large financial services firm, working in benefits, training and development, and employee relations.
After graduating from Columbia University with a master's in organizational psychology with a concentration in change management, Debbie decided to take eight months to travel around the world. This trip, which included volunteering in an orphanage in the West Bank, deeply impacted her and changed how she saw the world. Soon after returning to New York, she quit her lucrative consulting job to work with humanitarian organizations.
Debbie has spent the last 15 years working with the United Nations and various NGOs—including the Global Fund, Concern, and CARE International—in a number of humanitarian-related roles, spending significant time in the Middle East (in Jordan, Iraq, Turkey, Syria, and the West Bank/Gaza) as well as holding various oversight roles in Europe (in Italy and Geneva), Asia (in Bangladesh and Pakistan), and Africa (in Togo, the Ivory Coast, the Democratic Republic of the Congo, and Kenya).
In 2013 she joined CARE for a second time (after a brief stint at the organization in 2002 and 2003) to establish and implement their Syrian cross-border programs from Turkey. She then became a senior emergency response specialist and leader for their emergency rapid response team. In mid-2018, she moved her current role with CARE. She now serves as their lead for emergency preparedness and planning, working with more than 65 country offices to ensure they are preparing and planning appropriately for any emergency response.
Debbie has varied experience in both program management and operations; she likes to consider herself "a jack of all trades but a master of none." She has completed an international diploma in humanitarian assistance at Fordham and teaches courses in the University's humanitarian studies and international affairs programs. She is fluent in English, conversational in Italian, and tries hard to learn Arabic. She lives in New York City with her wonderful 9-year-old son.