Mission Leave for Administrators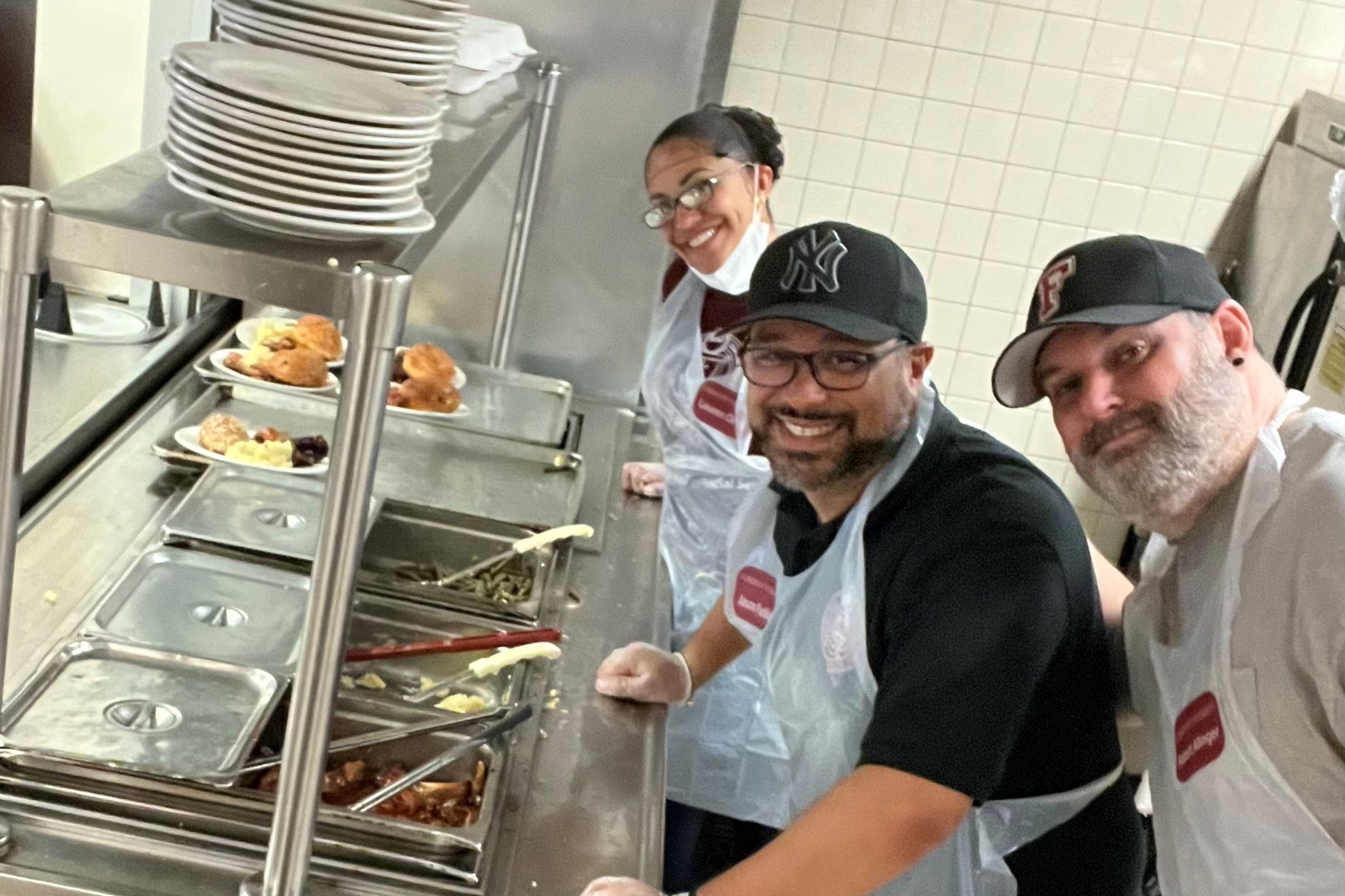 In order to promote the mission and vision of Fordham as a Jesuit university, the University encourages its members to deepen their understanding of Ignatian spirituality, as well as to walk with the poor, the marginalized, and those seeking justice, to accompany our young people in building a future of hope, and to protect and care for our common home.
This policy encourages our benefited Administrators to participate in university-sponsored, mission-related activities, and, in doing so, to better understand the University's vision, to live out its mission of service to others, and to reflect on ways to engage the broader community.
Voluntary participation in these programs strengthens inter-departmental relationships and builds community relationships while addressing the needs of those outside of the University.
Mission Leave opportunities can be sponsored by a number of departments throughout the University but can primarily be found through the Division of Mission Integration and Ministry. Specifically, programming run by Campus Ministry,the Center for Community Engaged Learning (CCEL), and the Director of Ignatian Mission Initiatives will apply.
Available offerings from Campus Ministry include projects with the Pedro Arrupe Volunteers and other short term service projects and retreats. Please reach out to Campus Ministry at [email protected] for more information and available dates.
Offerings from CCEL include participation in Urban Plunge each August, the opportunity to chaperone a Global Outreach project (winter, spring, and summer breaks), and other short term engagement experiences. Please reach out to [email protected] for more information and available dates.
Below, you will find an up-to-date list of offerings that qualify for Mission Leave. This list will be updated regularly, so please check back often. For questions, please reach out to the sponsoring department directly.
Tutoring and Mentorship (Post-Secondary Pathways)

When: Spring 2023, Weekly

Want to make a real difference in the life of a young person living in New York City? Sign up to be a tutor or mentor with our Post-Secondary Pathways program. This two hour/week commitment is the best way to build a relationship and provide ongoing support to a neighbor. We can partner you with a student looking for support in your area of expertise. To register, please email Maria Rodriguez at [email protected]

Chaperone a Spring or Summer GO Project!

Do you love to travel? Do you want to support Fordham students in building their global citizenship and getting to know how community development works around the globe? Sign up to chaperone a Global Outreach project. These immersion trips take place in the weeks following graduation, and visit a number of locations nationally and internationally. For more information about summer projects and to sign up to chaperone, reach out to Vanessa Rotondo at [email protected]

Bespoke Service or Engagement Experiences

If you would like to create a project, a day of service, or a specific community engagement experience with one of our community partners for your team or your area, we are happy to partner with you to set it up! Please reach out to Dr. Julie Gafney, Executive Director of CCEL to get the ball rolling ([email protected]).

City Relief

Join City Relief to learn about their operation and get hands-on experience in the mission of providing food, clothing and essentials to New York's homeless community as well as connecting clients with wraparound services. Help CCEL to explore deeper connections between this organization and Fordham's service and community engagement structures.

March 29 - Wednesday: Chelsea Park, Manhattan

(28th Street and 9th Ave - Chelsea Area)

Time: 10:30 a.m. - 1p.m.

March 30 - Thursday: Sara D. Roosevelt, Manhattan

(Chrystie St & Delancey St, New York, NY 10002)

Time: 10:30 a.m. - 1 p.m.

March 31; April 14 - Friday: Salvation Army Mission, Manhattan

(120 West 14th Street at 7th Avenue)

Time: 10:30 a.m. - 1 p.m.

Check back here soon for opportunities to work with Ignatian Mission Initiatives

For more information, please contact Robert Parmach at [email protected]

Lincoln Center Easter Basket Assembly for Abbott House Foster Care of Migrant Children

When: Thursday, March 2, 2023 1:00-2:30 p.m.

Where: McMahon-109

Rose Hill Easter Basket Assembly for Abbott House Foster Care of Migrant Children

When: Thursday, March 9, 2023, 1:00-2:30 p.m.

Where: JMCC-215

Bronx is Blooming Park Clean-up

When: Saturday, April 1, 2023, 10:00 a.m. - 3:00 p.m.

Where: Assembly in the University Church plaza.

Xavier Mission Soup Kitchen

When: Sunday April 2, 2023, 11:30 a.m. - 4:00 p.m.

Where: Assembly TBA for 55 W15th Street, NY

3-Day Staff Retreat

When: Tentatively May 23-25, 2023

Where: TBD

Take time out for quiet reflection and shared prayer experiences between the end of the old academic year and the start of a new fiscal year. Take stock of your spirit as you engage in spiritual exercises. This retreat is perfectly timed so you can ease right into Memorial Weekend. Contact: Carol Gibney, [email protected]

Ignatian Family Teach-in for Justice

When: October 28-30, 2023

Where: Washington, D.C.

Join Fordham's delegation of students and Mission & Ministry Staff. Learn, pray and advocate for justice at the largest annual Catholic social justice gathering in the US. Preparatory work will involve weekly meetings for a month to build a sense of community while familiarizing the group with the major issues at hand.

For more information, contact [email protected].