Getting Started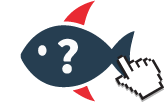 Fordham's Information Security and Assurance has partnered with Cofense to help members of the Fordham community recognize and report suspected phishing and malicious emails. Cofense Reporter is an addon to Gmail™. With one click, you'll be able to report potential phishing and malicious emails from your Fordham Gmail safely and in real-time. Reporting suspicious emails will help keep all Fordham members' information safe and secure.
Reporting Email
Cofense Reporter tool is available when you launch Fordham Gmail™. There is no additional download or installation required. The Report Phishing button will appear on the right-hand toolbar of Gmail. Again, no setup is required, Cofense Reporter is ready to report an email.
1. Open your Fordham Gmail account by visiting "gmail.fordham.edu" or through the Fordham Portal at fordham.edu. Place a checkmark next to an email, or open it.
2. Next, click the Fish Icon (Report Phishing) (Figure 1)

Figure 1. Location of the Report Phishing button.
3. A Cofense Reporter tab will show up. Hit the "Report" button to report the email.

Figure 2. Location of the Report button
That's it! You have successfully reported an email using Cofense Reporter. You will receive a notification that forwards the email to Information Security and Assurance, and the email will be moved to your trash.

Figure 3. Notification of reported Email
Cofense Reporter for Mobile Devices
You can also use the Cofense Reporter within the Gmail™ app.
Follow these steps:
Open an email from your Fordham Gmail account.

Scroll to the bottom of the message.

Click the Fish icon (Figure 4).

Confirm you want to report the message.
That's it! You have successfully reported an email.
Figure 4. Location of the Cofense Reporter in the Gmail app