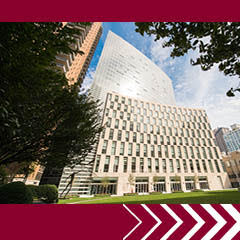 The restart of Fordham University will conform with the governor's plan to restart New York. As outlined in New York Forward, the state will reopen on a regional basis as each region meets the four criteria necessary to protect public health. These are:
The infection rate is sufficiently low;
The health care system has the capacity to absorb a potential resurgence in new cases;
Diagnostic testing capacity is sufficiently high to detect and isolate new cases; and
Robust contact-tracing capacity is in place to help prevent the spread of the virus.
To monitor and regulate the phased re-opening process, Gov. Cuomo has established regional "control rooms." Constituted with local elected officials, as well as hospital and state representatives, each control room will monitor seven health metrics and other key indicators, and can slow or shut off reopening if indicators are problematic.
Students will be allowed to return to campus with social distancing measures in Phase Four of New York State's plan. New York City entered Phase Four of reopening on July 20.