Fall 2018 Honoree

First woman vice presidential candidate on a major party ticket
Three-term congresswoman
First woman to chair Democratic Platform Committee
Ambassador to United Nations Commission on Human Rights
Champion of women's economic and health rights
Geraldine Ferraro '60 was a political dynamo, a fierce advocate for women's rights, an accomplished prosecutor, an ambassador, and author whose meteoric rise from daughter of immigrants to vice presidential candidate demonstrated that the road to the White House is not limited to male travelers.
Ferraro was born in 1935 in Newburgh, New York. Her parents, Dominick and Antonetta, were Italian immigrants. Ferraro excelled in school from an early age, skipping grades six through eight, and she graduated early from high school, in 1952. She earned a scholarship to Marymount College in New York, where she earned a B.A. in English. She later attended evening classes at Fordham Law while teaching public grade school in Queens. She was one of two women in her class of 179, and received her law degree in 1960. Ferraro and John Zaccaro married on July 16, 1960, two days after she passed her bar exam. She kept her maiden name as a tribute to her mother.
In addition to raising three children, Ferraro performed legal work for her husband's real estate business and did pro bono work for women in family court. In 1970, she was elected president of the Women's Bar Association, at a time when the organization was battling to have a voice in the selection of judges. Ms. Ferraro helped establish a review process for candidates that didn't consider gender a disqualifying factor. In 1974, Ms. Ferraro obtained her first of many government jobs when she was sworn in as an assistant district attorney. Three years later she was named the head of a new unit in the DA's office: the Special Victims Bureau, where she investigated rape, crimes against the elderly, and spousal abuse. She quickly earned a reputation for her tenacity and talent in the courtroom.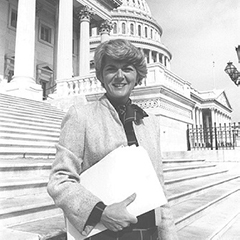 Ferraro burst onto the congressional scene in 1978, when she won a three-way Democratic primary for her Queens district then defeated Republican assemblyman Alfred A. DelliBovi, on the strength of her law-and-order platform. Once in Congress, Ferraro fought tirelessly for women's economic and individual rights. She sponsored the Economic Equity Act in 1981, leading to reforms to pension options for women, protections of rights of widows and divorcées, and measures to allow homemakers to save as much as their working spouses in individual retirement accounts. She also supported reproductive rights.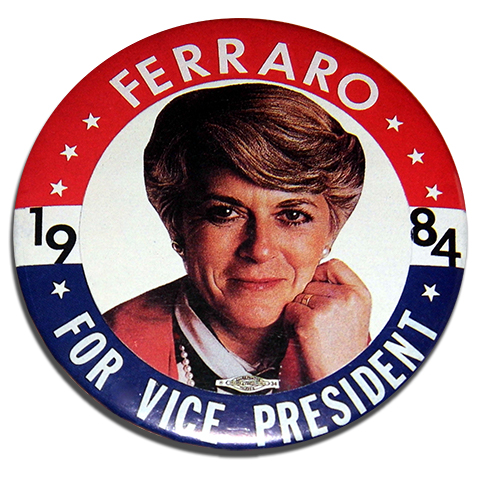 Ferraro also made her presence felt on Capitol Hill on a series of committees, each one pointing to her rising clout. She started on the Select Committee on Aging in 1979, a post she held until 1985, served on the Post Office and Civil Service Committee for the 96th and 97th Congresses (1979-1983), and joined the Public Works and Transportation Committee in 1981. In the latter role, she successfully lobbied for improved mass transit around LaGuardia Airport. In 1983, she attained a seat on the powerful Budget Committee. Her appointment as chairwoman of the 1984 Democratic Platform Committee marked her as a rising political star and served as a precursor to her ascent to the presidential ticket.
On July 11, 1984, Democratic Presidential nominee Walter Mondale called Ferraro to ask her to be his running mate. Eight days later, Ferraro accepted, becoming the first woman vice presidential candidate on a major party ticket. Later in 1988, she addressed her momentous time on the Mondale ticket in a letter to the New York Times. She said that women had written to her to share how she had inspired them to take on challenges. Schoolgirls told her that they needed her advice, that they hoped to be president someday. (Three decades later, Ferraro's achievement remains too rare. In 2008, Alaska Governor Sarah Palin joined Ferraro as just the second woman to receive a major party vice presidential nomination when Republican presidential candidate John McCain selected her in his White House bid. In 2016, Democrat Hillary Clinton became the first woman presidential nominee for a major party.)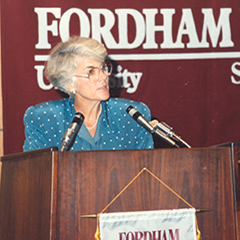 Ferraro returned to practicing law after the 1984 campaign, and later served as a fellow at the Harvard Institute of Politics from 1988 to 1992. In 1993, President Bill Clinton appointed her ambassador to the United Nations Human Rights Commission. She was also appointed vice chair of the U.S. Delegation to the Fourth World Conference on Women in Beijing. From 1996 to 1998, she co-hosted the CNN program Crossfire. She also wrote three books and numerous articles about her political experiences and worked as president of a global management consulting firm.
In 2007, Fordham honored Ferraro by hosting a ceremony introducing the Geraldine Ferraro rose. Sales of the hybrid tea rose funded studies and treatment of multiple myeloma, which Ferraro lived with for more than a decade before her death on March 26, 2011. The University planted the rose on the Lincoln Center campus.
"By choosing a woman to run for our nation's second highest office, you send a powerful signal to all Americans. There are no doors we cannot unlock. We will place no limits on achievement. If we can do this, we can do anything."
– Geraldine Ferraro '60