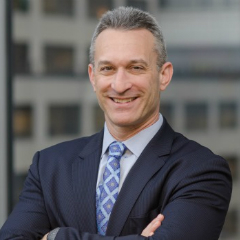 Adjunct Professor of Law
212-773-2778
[email protected]
Adam Cohen is an attorney and Certified Information Systems Security Professional who has advised clients on the intersection of law and technology for more than 20 years. His areas of expertise span cyber-security, electronic discovery and enterprise information management. In addition to his professional legal and consulting work, he is a prolific author and lecturer whose work has been cited in several landmark federal court opinions. He has served as a court-appointed, neutral e-discovery expert in the United States District Court, Southern District of New York and is an active member in professional organizations and educational institutions.
Soon after graduating from Duke Law School, Adam became a litigation partner with one of the largest law firms in the world, Weil Gotshal. With partner David Lender, he co-authored Electronic Discovery: Law and Practice, the premier treatise in the field cited in seminal federal court opinions such as Zubulake v. UBS Warburg, Lorraine v. Markel, and others (including a Circuit Court of Appeals opinion on data privacy). At Weil, Adam represented some of the largest and best known corporations in the world in complex litigation involving technology issues.
In 2006, Adam went to FTI Consulting, Inc. as a Senior Managing Director, where he developed a legal technology consulting practice in electronic discovery and information management. In 2011, he joined Ernst & Young as a Principal (a partner who is not a CPA) in the Forensic Technology and Discovery Services sub-practice of the Fraud Investigations and Dispute Services group.
Adam teaches courses designed to prepare the next generation of lawyers for the challenges of technology in litigations and investigations. He is an adjunct faculty member at Fordham Law and has lectured and/or taught courses at several law schools, including Harvard and Georgetown.
Investigations and Disputes
Leading computer forensics and data analysis teams in major professional sports league's investigation of performance enhancing drug use.
Expert witness on eDiscovery in class action against major private equity funds alleging anticompetitive practices.
Managing data collection and analysis in Japan during investigation of multinational consumer electronics manufacturer.
Strategic advisor on eDiscovery spoliation issues to major semiconductor manufacturer in dispute with competitor.
Information Management & Compliance Advisory
Advising some of the largest private equity and hedge funds in establishing and documenting retention policies, litigation hold and collection policies, and computer use policies.
Writing electronic discovery process manuals for Fortune 500 corporations.
Preparing RFP's and requirements documents for the selection of enterprise content management solutions for a variety of international corporations.
Assisting law firms in the development of internal electronic discovery policies.
Assisting law firms and corporations in recruiting electronic discovery managers.
Education
BA in Philosophy, Wesleyan University, 1990
JD, Duke University School of Law, 1993
Professional Associations and Memberships American Bar Association New York State Bar Association, Commercial and Federal Litigation Section, Co-Chair Electronic Discovery Committee
Association of the Bar of the City of New York
Defense Research Institute, Electronic Discovery Committee
Advisory Board, Georgetown Advanced eDiscovery Institute and Georgetown eDiscovery Training Academy
Sedona Conference Working Group on Electronic Discovery and Document Retention
Duke Law NYC Alumni Association
Speaking Engagements and Publications
Books (publisher Wolters Kluwer)
Electronic Discovery: Law and Practice (co-author David Lender, two volumes in 2d edition, updated annually for 12 years and running): this is the leading treatise in the field of electronic discovery frequently cited in federal court opinions.
Social Media: Legal Risk and Corporate Policy: published in 2013 and currently undergoing a major update, this book explores the nascent case law involving social media and corporate compliance approaches, as well as data privacy policies of leading social media policies.
Electronically Stored Information Handbook: Sources, Technology and Process (co-author Ed Kalbaugh): originally published in 2009, the handbook was intended to provide non-technical legal professionals with a resource for understanding the process and technology of handling electronic discovery and includes a companion CD with sample forms, policies, checklists, etc. The entire book is now included as part of the two volume Law and Practice treatise.
Associations and Memberships
Chair (for more than a decade), E-Discovery Committee for the New York State Bar Association Commercial and Federal Litigation Section
Advisory Board, Georgetown Law Cyber-Security and Advanced E-Discovery Institutes
Sedona Conference Working Groups 10 (e-discovery and document retention) and 11 (cyber-security).
Mailing Address
Fordham University School of Law
Legal Writing Program
150 West 62nd Street, Room 7-175
New York, NY 10023