Catering Options at the McGinley Center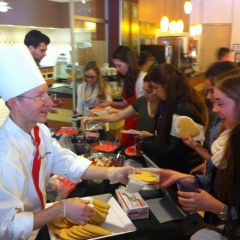 Catering Services are available seven days a week for all students, faculty, staff and University Guests. Fordham Campus Dining offers a wide range of events and pricing for the informal gathering or meeting to the most elegant dinner affair. Stop by our catering office located in the rear of the McGinley Main Cafeteria, the Ultimate Dining Marketplace to pick up a full service catering guide or our "pick-up" catering guide which offers reduced pricing for student events.
For more information about catering at the Rose Hill campus, call 718-817-0907 or visit Fordham Campus Dining online.