Incoming Exchange Students
Welcome incoming exchange students!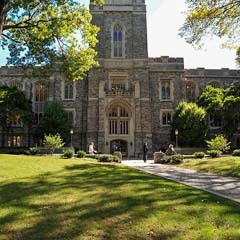 Fordham University has partnered with numerous universities across the globe, and through these partnerships, international students have the opportunity to study at Fordham University for one semester or one academic year. To participate in the exchange program, please confirm that your home university is currently a partner with Fordham University for undergraduate exchange.
If your home university is not currently a partner with Fordham University, please visit the Office of Admissions' page regarding visiting international students.
(Prospective incoming exchange students must be officially nominated by their home universiy before gaining access to the application)
New York City is made up of five boroughs: Manhattan, the Bronx, Queens, Brooklyn, and Staten Island. Fordham College Rose Hill and Gabelli School of Business are located on the same campus in the Bronx, and Fordham College Lincoln Center is located in Manhattan.

The Rose Hill campus is the original campus of Fordham University. It is a traditional college campus, with green lawns, trees, large residence halls, sports facilities, and outdoor American football and baseball stadiums. The campus has the benefits of being located next to the NY Botanical Garden, the Bronx Zoo, and famed Arthur Avenue. It's a short train ride into Grand Central Terminal, in midtown Manhattan, or students can take the Fordham Ram Van shuttle between campuses.

The Lincoln Center campus is located in Midtown Manhattan, just a couple of blocks from Central Park. It is an urban campus, with a public park space in the middle of tall campus buildings.

As an undergraduate exchange student at Fordham University, you are permitted to take any course within the college to which you have been admitted*.

Fordham University has three colleges:

You can review the list of undergraduate degree programs available as well as browse the course catalog and view course descriptions. You must seek permission to take coursework outside of the college to which you have been admitted. You will be allowed to add or drop courses up to the end of the first week of classes. These changes can be made online through your my.Fordham account, to which you will be given access a few weeks after your acceptance.

Note: You will be admitted to the corresponding Fordham college based on your academic records at your home institution*. Course selection and availability is not guarateed for exchange students.

Contact the Fordham Office of International and Study Abroad Programs at [email protected] for a list of courses that have been available to exchange students in the past.

You must register for a regular full-time course load which is the equivalent of 15-18 credits upon your arrival at Fordham University. All incoming exchange students will be enrolled in a madatory 3 credit exchange course.

Intercultural Exchange ILC 1271 - (3 credits)

This course is intended for exchange students and introduces basic concepts, skills, and strategies to identify and manage cultural and academic expectations in the US. The course is designed to support students familiarize with the contemporary American culture, to help them understand and appreciate it, and to help them feel "at home" in NYC. Each student, as a representative of his/her own culture, will have a "voice" in this class, since the main intention is to encourage a cultural dialog (vs a cultural clash). Through weekly readings, ethnographic observations, and practical discussions, students will learn the importance of preconceptions, context, roles and power in intercultural communication. Students will identify opportunities and challenges that arise from cultural differences and learn ways to appropriately address them in both academic and social settings.

Exchange students enrolled at Fordham for a full academic year will be enrolled in IALC 2420 Intro to Global Citizenship course (second semester) which is mandatory.

Intro to Global Citizenship IALC 2420 - (3 credits) is unique course is designed to help students build intercultural competencies as members of the global community through research, discussion, and group projects. Models will be drawn from the U.N. Sustainable Development Goals and the Ignatian Perspective on Global Citizenship. Special emphasis is on deepening the awareness of their place and responsibilities, both locally and globally, and working with others toward the goals of a sustainable earth and just society. The course is open to students from Fordham University and exchange students from our partner universities around the world in order to foster cross-cultural dialogue.

Only students nominated by their home institution to attend Fordham as part of a standing exchange agreement may complete the application. If you are not sure if your home university is a Fordham partner, please contact your home university's student exchange/mobility office.

Admission requirements:

A GPA of 3.0 (or equivalent) out of 4.0 grading scale*
Official home university transcript
Proof of English language proficiency* and must meet the following qualifications:
Provide evidence of financial support to cover at least $10,000 for the living expenses for each semester/term attending at Fordham University

*You will see instructions for submitting these items in addition to other important materials once you begin the application.

Fordham University has two semesters: Fall (August - December) and Spring (January - May)

Only students nominated by their home institution to attend Fordham as part of a standing exchange agreement may complete the application. Exchange students must apply by the following program deadline.

All students (Fall, Spring, and Academic Year), must be nominated by February 15th. Applications completed by March 1st.

More information regarding arrival dates, university holidays, and final exams will be made available to applicants upon acceptance.

Tuition: Incoming exchange students will pay the cost of their home institution.

Housing: Incoming exchange students can apply for on-campus housing. Information on housing rates can be found here.

Insurance: Insurance will be billed to you automatically. Instructions to waive the insurance and plan information is available here. If you do not waive the insurance, then you will be charged for it.

Other Estimated Fees (2022-2023)*:

General Fee (per term)
$281*
Technology Fee (per term)

$300*

Late Payment Fee (monthly)
$15 or 1.5% on outstanding balance, whichever is greater
International Student Service Fee (per term)
$63*
Study Abroad Fee (per term)
$600
Health Insurance
Fall Term:$1,398*
Spring Term:$2,507*
Lab Fee (if applicable)
Biology, Chemistry, Natural Science, Physics, Psychology, Computer

These charges will be applied to your account and must be paid by the start of the semester. Failure to pay these fees will prevent the release of your academic transcript at the end of your term at Fordham University.

On-campus housing is available on both campuses on a first-come, first serve basis. Once you have been accepted by Fordham University, you will be given information regarding on-campus housing, should you wish to apply. More information regarding the various on-campus housing options and the cost is available through the Fordham Office of Residence Life. Please note that housing is not guaranteed.

You are not required to live in Fordham housing and are permitted to arrange your own housing. Unfortunately, Fordham University does not provide assistance to students searching for their own housing in New York City. However, upon acceptance, you will be provided with One to World's alternative housing options in NYC, The International Student's Guide to Living in New York City, which will provide helpful information and tips for searching for the right place to live.

Once you have been officially nominated by your home institution, you will receive an email notification from Fordham University indicating an application has been created on your behalf. In the email you will find your login credentials: a username (your personal email address) and a temporary password. Students must select the option "Non-Fordham" login link to proceed to create your own password. Once the login credentials are verified, you will gain access to your Fordham Study Abroad Portal and be prompted to complete additional personal details. Your portal homepage will have application instructions and the requirements to be completed.

All students who do not have a United States passport will be required to apply for a J-1 Visitor Visa. More information about the visa process and application will be made available during the application process.

As part of the J-1 visa requirements (click on "Insurance"), you must have sufficient medical insurance coverage. You will need to provide proof of your medical insurance coverage upon your arrival to Fordham University in order to waive the Fordham insurance that will be charged to your student account. If you do not waive the Fordham Insurance plan by the deadline, you will be charged for the insurance and required to pay the charge prior to the release of your Fordham transcript.

In order to receive the Certificate of Eligibility (DS-2019) needed to obtain a visa, international students must provide evidence that they have financial support to cover at least $10,000 for the living expenses for each semester/term they will attend Fordham University. All exchange students must complete the Certificate of Financial Eligibility (AFCOE) form which will be available in your study abroad portal.

Fordham University's exchange program does not authorize internships for students on J-1 visas.

Fordham Vaccination Requirements

Fordham University requires all students who are taking in-person classes, living in University housing, or entering the campus for any reason to be up to date with their COVID-19 vaccines.
Students will need to upload their vaccine information as an immunization record via the Student Health portal, found on their My Fordham account (access will be granted after official acceptance to the exchange program).COVID-19 information and frequently asked questions can be found on this website.
Students will also need to submit additional immunization records. Information on which ones can be found on the Health Info for New Students webpage.