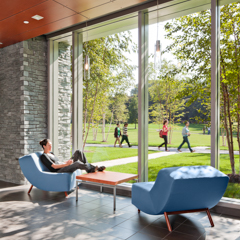 Planning on visiting campus? Go to our Campus Visit calendar. For all live virtual events, be sure to register on our Virtual Events calendar. Want to watch something now? Go to our On-Demand Events calendar.
Considering Fordham?
If you're excited to learn more about Fordham, you've come to the right place to figure out the best way to move your college search forward. You probably have some big questions; we believe we have the answers. Our visitation program ensures that you are informed by fact and can be guided by feeling.
Take a look below to see if you recognize any of these questions and see what we recommend.
What is Fordham all about? A great starting point! Our virtual information session provides you with an overview of Fordham the Jesuit University of New York. And, the opportunity to engage with admission counselors and students.
What does it feel like to go to school in New York City? Come for a student-led, guided tour. There's nothing like Autumn in New York on either our Lincoln Center or Rose Hill campus. Can't make it to campus? You can always take our virtual tour.
What do the students think? Our Ram Talk is a weekly program run by students, for students. Come to this Q&A to hear what our students have to say about: professors' office hours, joining clubs, the best place to get a slice of pizza, and pretty much anything else you might be wondering about.
Still not sure how to visit?
Call 718-817-4000 and ask to talk with an admission counselor. We'll be happy to talk you through all your options.
Tour Only (open to all visitors): daily (times vary); September-November; in-person, student-led, 60-minute campus tours; indoors and outdoors; hosted on each campus.

Fordham Insights (open to all visitors): daily (times vary by campus); September - November; in-person; welcome panel with students; student-led campus tour; indoors and outdoors; admission counselor hosted presentation; 120 minutes.

Fordham Perspectives (open to all visitors): in-person; select Saturdays and a holiday Monday; September to November; virtual on October 9; half day. When you sign up for Fordham Perspectives, you'll choose your campus and your desired topic. During the program, you'll take a campus tour and attend a session on your area of interest. You'll hear perspectives from staff and students! See below to learn more about the topics.

Virtual Information Session (open to all visitors): twice a week, September - December, at 7 p.m. (Mondays) and 4 p.m. (Thursdays); covers both campuses; recorded 30-minute presentation; two admission counselors on audio, answering questions live; two current Fordham students, answering questions via chat; 60 minutes.

Ram Talk (students only): live once a week, September - December, at 4 p.m. on Wednesdays; virtual, student-led, topic-based conversations; Fordham students answering questions live and via chat; drop in any time within the 60-minute window.

Virtual Ram Sessions (open to all visitors): live weekly, September - December, at 6 p.m. or 7 p.m. on Wednesdays; virtual, focused sessions; admission counselors answering questions live and via chat; 60 minutes.

On-Demand Events: any time; recordings of presentations or previously live events; 10-60 minutes.

Virtual Tour: on-demand; self-guided; 360-degree views and photos; 15-45 minutes.

Identify what features matter most to you.

if you want to come to campus;
if you'd like to walk around campus, including the inside of our main buildings (due to COVID-19, we are not able to show inside a residence hall);
if you want to hear from a current student (you also have the option at the end of the tour to speak with an admission counselor);
if you'd like a visit that lasts about an hour.

if you want to hear from several current students;
if you want to tour campus;
if you would like to learn about the college admission process.

if you want to hear from students and counselors;
if you want a detailed overview of Fordham.

if you only want to hear from current Fordham students;
if you want a more flexible option (drop in anytime within the hour);
if you have specific questions only students can answer - it's a Q&A format.

if you are interested in learning more about a specific topic;
if you have specific questions for admission counselors

if you're going to be a high school senior;
if you're a parent or other family member;
if you're a high school sophomore, junior, or senior; we also have some events during the year that are focused just for you!
if you're an international student;
if you're a transfer student, though you'll want to see our specific transfer information.

Liberal Arts and Sciences (September 25 & October 16): Considering studying something within the fields of arts and sciences? Come learn more about the value of thinking critically, forming arguments, analytical research, and being able to defend your position that comes with a liberal arts and sciences program of study.

Business (September 25 & October 16): What to be part of a business that is driven by purpose and seeks to change the world? Come learn more about how to become a passionate leader in business while driving for sustainable social change.

New York City as Home (October 2 & November 6): Fordham is located in one of the best cities in the world, and it helps define the Fordham student experience. Come learn about the ways in which New York influences, and has an impact on, the academic, social, and co-curricular experiences of Fordham students.

The Value of A Fordham Education (October 9; virtual): Research university. New York City location. Jesuit heritage. Learn about the aspects of a Fordham education that, when combined, add up to so much more than the sum of their parts. Explore the academic, social, and pre-professional opportunities available at the Jesuit University of New York.

Academics in Theory (October 11 & November 13): No matter what your major, when you come to Fordham, you'll receive a world-class education. Come learn more about the ways in which you'll experience academics in theory: from the core curriculum, to advisory support and extraordinary professors who bring their fields to life.

Academics in Practice (October 11 & November 13): No matter what your major, when you come to Fordham, you'll have a chance to put that major to work. Come learn more about the ways in which you can put into practice what you've been learning in your classes: from internships, to research and shadowing opportunities, to community engaged learning and integrated learning communities.

Students of Color (October 30): The experiences of students of color at a predominantly white institution are diverse. Come learn from students and staff about the support and programming designed for our students of color.

The Jesuit University Experience (November 6): What does it mean to go to a Jesuit university? Jesuit education is known to push boundaries, face injustice, and have student bodies that rise to challenges. Come learn how Fordham being a Jesuit institution opens pathways to explore faith, going the extra mile, and being humans for others.

Meet the President! These two special Virtual Ram Sessions feature a discussion with our University President, Fr. Joseph M. McShane, S.J.

Afterwards, you'll be invited to an inside look into the Admission and Financial Aid process. Register below:

Admission Updates (September 29, 6:00 pm)
Inside the Admission Committee (September 29, 7:00 pm)
Choosing a Campus and College (October 6, 6:00 pm)
Theatre Major (October 6, 7:00 pm)
First Generation Students (October 13, 6:00 pm)
Transfer Students (October 13, 7:00 pm)
Ailey/Fordham BFA in Dance (October 27, 6:00 pm)
Financial Aid (October 27, 7:00 pm)
New York City (November 3, 6:00 pm)
Students Of Color (November 3, 7:00 pm)
HEOP (November 10, 6:00 pm)
Admission Updates (December 1, 6:00 pm)
For Students Considering Commuting (December 1, 7:00 pm)
New York City (December 8, 6:00 pm)
Students of Color (December 8, 7:00 pm)