Kristen Cordero, GSS 2014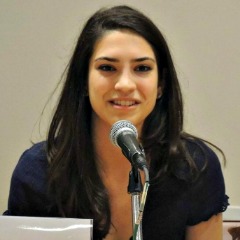 Why did you choose to attend Fordham for your MSW?
Fordham is one of the highest ranked social work schools in the nation, and among these institutions, it uniquely offers a track to gain both clinical and leadership knowledge and experience. In addition, Fordham offers a wide array of field placements that vary in social work approaches, populations, locations and more. I wanted to make sure that I was getting a quality education that allowed me to explore and gain real world experience in the many paths of social work.
What was the Fordham experience like for you?
My Fordham experience was very insightful and exciting. By engaging in and taking advantage of the many opportunities Fordham offers (events, internships and workshops), I met so many admirable people. I learned more deeply about global issues, and discovered and gained confidence in my ability to serve as a leader and take initiative.
Which Fordham professors had the greatest impact on you?
This is quite a hard question to answer as many of the professors I had at Fordham have impacted me in different and meaningful ways. One that stands out, however, is Dr. Hertz, my professor for the Leadership and Macro Practice courses. Based on her real life experiences, she gave a lot of practical and honest advice on how to navigate the social work field and build your personal brand. Having graduated two years from now, I can say that her advice has helped me to where I am today.
How did you get started in your career?
For my undergraduate studies I was pursuing a degree in psychology in order to be a child psychologist. However, my aspiration began to change after graduation when I participated in AmeriCorps NCCC. Here I worked with several non-profits on disaster relief projects serving low-income families and communities across the Southeast region of the U.S.. During this time I was able to see the tremendous impact societal and environmental factors had on human well-being. With this new perspective, I decided social work was a more holistic and comprehensive approach in helping our world's most vulnerable people.
How has Fordham helped you get to where you are today?
Fordham was helpful in clarifying what path of social work I want to pursue. By taking the Community-based Practice and Leadership program track I was able to learn and gain experience in both Clinical and Leadership through courses and internships. This allowed me to determine that non-profit leadership in international organizations is the path I most enjoy. Furthermore, my field assignments at Fordham helped me gain the experience and networks I needed for my current positions. While interning at the United Nations, I was involved in multiple advocacy initiatives where I met people from multiple UN agencies and international organizations. From these connections I was able to meet the founder of an organization I now serve on the board for.
What are you currently involved in?
Currently I am a full time consultant for the UN Children's Fund (UNICEF) Division of Communication where I provide operational and administrative support to their Digital Strategy Section. In addition, I proudly serve as the Board Secretary for Girls Education Initiative of Ghana-US, a non-profit organization that fundraises and advocates for educating girls, in particular those with disabilities, globally.
What do you do in your free time?
I enjoy doing outdoor and fitness activities, including jogging, snowboarding, yoga and kickboxing. I also like to spend time with my family and friends, read and watch movies.