Explore London and Gain M.S.W. Credits at Fordham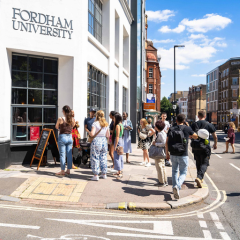 What better way to obtain your Master of Social Work (M.S.W.) degree than in two of the greatest cities in the world? At Fordham GSS, not only do you have the chance to study in the heart of New York City, but you have the opportunity to complete part of your MSW program abroad in London, England.
In Fordham GSS's Summer London Program, you can take up to two classes earning six credits toward your degree. The three-week program begins in NYC with three days of classes and finishes with two weeks at Fordham's London Centre (take a virtual tour of the Centre at the bottom of this page!).
Prospective student interested in Fordham's M.S.W. program? Attend a virtual info session | MSW Application Process | MSW Program Information | Apply now
Settlement House Experience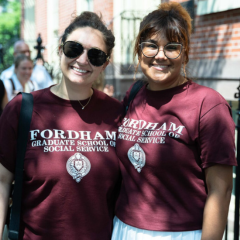 At Fordham GSS, we value hands-on experience just as much as in-class learning. In the Fordham GSS London Summer Program, M.S.W. students also complete site visits to historic settlement houses located in NYC and London. The program highlights the rich history of the settlement house movement in London and NYC and its role in the formation of the social work profession and social welfare. Read more about our trips to NYC settlement houses and London settlement houses.
Faculty will facilitate structured opportunities for students to integrate their community-based and classroom experiences and learning and enhance the international comparative nature of their study abroad.
Fordham GSS London Program Application Information:
These summer courses will run for three days in New York City and two weeks at Fordham University's London Centre.

The courses offered will be:

SWGS 6702: Comparative Social Welfare Policy and Advocacy
SWGS 6429: Methods of Group Intervention

The courses and community and agency visits will be focused on current settlement house practices and their local contexts. Particular attention will be focused on structures, processes, and methods that empower communities and build the capacities of individuals, families, groups, and organizations through community-based practice and group work.

Students must have completed the Generalist Phase of the MSW program to participate in the Fordham GSS London Summer Program.

The cost for each course is the same as our regular tuition, plus an administration fee. Students are responsible for the cost of airfare and housing. Students will arrange for their airfare and housing.

Applications for the Fordham GSS London program are currently closed. For more information please contact Dr. Gregory Acevedo or Dr. Dana Marlowe.

In addition to the courses offered at the London campus during the summer, GSS will offer students a unique Field placement opportunity working with Settlement Houses in both New York City and London during the academic year.

No upcoming information sessions are scheduled at this time.

Watch the recording from our session on December 5, 2022 to learn more about the 2023 London Cohort.