New York City's Most Flexible M.S.W.
Looking to create a customized and flexible educational experience for your MSW? Look no further than Fordham's Graduate School of Social Service. With multiple plans of study available, you can tailor your education to your specific interests and needs.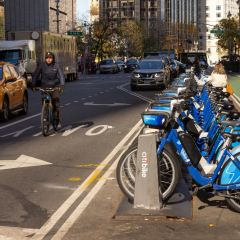 We understand that every student is unique and requires different options to fit their life. That's why we offer both full-time and part-time plans of study, including advanced standing, to accommodate all schedules. As a part-time student, you can complete your degree in just three to four years while taking classes in the evenings or on Saturdays.
What's even better? As a Fordham GSS student, you can do all of your coursework on-campus in just one day a week, making it easier to balance work, school, and life.
Don't settle for a one-size-fits-all approach to your MSW education. Choose Fordham's Graduate School of Social Service for a customized and flexible plan of study that meets your needs.
Our MSW degree is a 62-credit program, broken down as follows:
48 credits of classwork
14 credits of fieldwork
All M.S.W. students complete a Generalist Phase, a Specialist Phase, and field education. Here's what that means:
This is where you build your bedrock of social work knowledge. Everyone at this level takes the same coursework, which is a great way to connect with classmates. Here are a few examples of courses you'll take in the Generalist Phase:

Integrating Human Rights and Justice in Practice
Advanced Clinical Assessment and Diagnosis
Social Work Practice With Organizations and Communities

Interested in learning more about GSS M.S.W. coursework? Read more here.

This is where your M.S.W. education becomes your own. Take eight classes based on your own interests. No written-in-stone plans of study, no tuition spent on classes that don't spark your desire. Here are some examples of Specialist Phase classes:

Social Work Practice with Substance Use Disorders
Fundraising
Health Care Policies and Advocacy

Interested in learning more about GSS M.S.W. coursework? Read more here.

Field Education is vital to social work education and necessary for completing an MSW program. A minimum of 950 hours of fieldwork, with 450 hours for the Generalist level and 500 for the Specialist level.

You will work with clients, organizations, communities, and social/political systems to gain direct practice experience. Fordham has partnerships with thousands of field agency sites within the tri-state area and nationally, providing you with diverse learning opportunities.
Practice Domains
As a GSS student, you'll also have the opportunity to pursue one of four advanced practice areas:
Individuals and Families:

Learn how to provide direct services that address clients' environment and overall well-being.

Organizations and Community:

Be prepared to work effectively with entire communities and various types of organizations, including private and public companies and nonprofits.

Evaluation:

Become a more versatile social worker as you study and apply new ideas in the field.

Policy Practice and Advocacy:

Develop skills related to managing organizations and systems, creating policy, writing grant proposals, and obtaining funding.
Have questions? We have answers. Reach out to an admissions counselor today to start formulating your plan.
Want Some More Detail? If you're in the thick of the admissions process, you're going to want more information ASAP. Just click on the plan of study below that fits your timeline, and start mapping your social work journey today.
Plans of Study at Our Lincoln Center and Westchester Campuses
We offer four plans of study in which you can complete your M.S.W. degree:
Plans of Study at Our Long Island Molloy Campus
Plans of Study for Our Online Program
Additional Opportunities for On-Campus Students
Internship with the United Nations
Is policy your passion? Want to make an impact for the global good? Each year, on-campus M.S.W. students at Fordham have the opportunity to complete their internship at the United Nations in this highly competitive program. Visit the United Nations field internship webpage to learn more.
London Summer Study Abroad Program
Learn from our colleagues across the pond! On-campus students can sign up to study in London during the summer semester, receiving a rich experience in the classroom and outside of it, learning about the origins of Settlement Houses in New York City and London. Explore London's culture and history while networking around Fordham's London Centre campus. Visit this webpage to learn more.
Palliative Care Fellowship Program
One of the only programs of its kind in the country, this fellowship allows students to immerse themselves in the ever-growing field of aging and palliative care. Along with a tuition stipend and mentorship, students receive access to additional workshops and courses from Fordham's Continuing Education program. Learn more about the fellowship here.
PIPELINE for Youth Health Fellowship Program
Through this program, advanced-year on-campus students receive a $10,000 tuition stipend along with the ability to learn about the crucial field of behavioral health. This fellowship also offers exclusive workshops from experts in the field and display their skills through an immersive capstone project shaped by the needs of the community and population. Ready to make your impact in NYC's behavioral health field? Learn more here.