Fordham Center for Nonprofit Leaders In the News
New Graduates Run Nonprofits With an Eye on the Bottom Line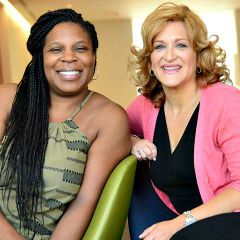 One of the year's most successful new programs on campus is the Master of Science in Nonprofit Leadership from the Graduate School of Social Services.
On Aug. 23, 38 students will graduate from the program, while earlier this month more than 60 new students were welcomed into this year's record-breaking cohort.
Elaine Congress, DSW, LCSW, professor and associate dean at GSS, described the program's inception. "The timing was right," she said of the year-old program. "Social agencies are becoming more businesslike and businesses are becoming more socially conscious."
Read the full story at Inside Fordham.
Harlem Children's Zone Executives Speak to Nonprofit Leadership Students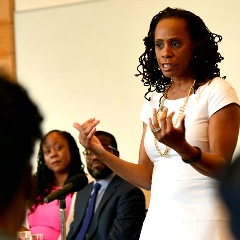 Students in Fordham's nonprofit leadership program recently got some career advice from a tough-minded, innovative group of nonprofit managers: the executive staff of the Harlem Children's Zone.
Anne Williams-Isom, FCLC '86, CEO of the model anti-poverty nonprofit, told students that deliberate steps did not always mark her career path. She had no one to help her with college applications, she said, and started out as a lawyer but soon found herself working at the city's Administration for Children's Services.
She never imagined she'd be running the Harlem Children's Zone, but her friend Geoffrey Canada, education activist and the organization's founder, invited her to work with him as chief operating officer in 2009. She took over as CEO in July 2014.
Read the rest of the story at Inside Fordham.
"Healing Gotham"–When Health Policy Clashes With Municipal Politics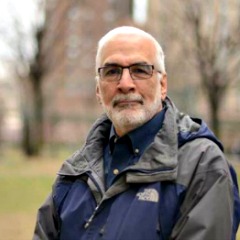 Ebola may have receded from the headlines. But the way in which the City of New York responded to its first appearance here last October—complying with a mandatory state quarantine of returning Ebola health care workers—was a perfect example of the challenges that city leaders face when confronted with a health crisis.
In Healing Gotham: New York City's Public Health Policies for the Twenty-First Century (Johns Hopkins University Press, 2015), Bruce Berg, Ph.D., looks at five contemporary public health threats that New York City has dealt with: Childhood lead poisoning, childhood asthma, HIV/AIDS, obesity, and West Nile virus.
For Berg, an associate professor of political science, the book is a return to and expansion of the analysis that drove his last book, New York City Politics: Governing Gotham (Rutgers University Press, 2007), a comprehensive look at the city's political system.
Read the rest of the story at Inside Fordham.
What Can Business Do to Fight Human Trafficking?
Patricia Cole recently moderated a panel entitled "Human Trafficking & Corporate Responsibility from the Business, Government, and Nonprofit Perspectives." This event, part of the Fordham University Center for Nonprofit Leaders Coffee, Conversation, and Connecting Series, and the Manhattan Chamber of Commerce Anti-Human Trafficking Series, emphasized that human trafficking is not only a social justice issue but also a corporate social responsibility issue.