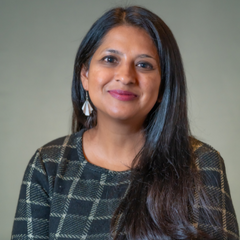 Assistant Professor
Phone: 212-636-6639
Email: [email protected]
Office: Lincoln Center 721A
B.A., University of California, Berkeley, College of Arts and Sciences
M.P.H., University of Pennsylvania, Perelman School of Medicine
M.S.W., University of Pennsylvania, School of Social Policy & Practice
Ph.D.,University of Chicago, School of Social Service Administration

Gender, sexuality, and HIV
International social work
Mental health of minority populations
South Asia
Substance Abuse Treatment
Power, privilege, diversity, and inclusion in institutions
Social work responses to pandemics
Ethics in social work practice

Sameena Azhar has 18 years of clinical and research experience in the fields of mental health, substance abuse and HIV. Her research has been funded through the Council on Social Work Education's Minority Fellowship Program, the University of Chicago's Center for the Study of Gender and Sexuality, the Foreign Language and Area Studies Fellowship (FLAS) in Urdu through the U.S. Department of Education, Ford Foundation, and the HIV and Drug Abuse Prevention Research Ethics Training Institute (RETI) at Fordham University. She has also worked for several years as a Behavioral Intervention Trainer for the California STD/HIV Prevention Training Center, housed in the STD Control Branch of the California Department of Public Health and as a Clinical Social Worker for Ward 86, the HIV clinic at San Francisco General Hospital. Sameena has lived and worked in the Bronx, Los Angeles, Oakland, San Francisco, Delhi, Philadelphia, Hyderabad, Chicago, and now Harlem. She is currently engaged in three major research projects. (1) She is conducting an examination of guru-chela culture of khwaja sira (third gender people) in Mingora, Swat, Pakistan. (2) With three other Asian American female social work researchers, Sameena is beginning a project examining how anti-Asian racism impacts the mental health of Asian American populations in the United States through the COVID-19 pandemic. (3) With four other researchers at the Graduate School of Social Service, she is leading a project examining public attitudes in New York City, regarding the racialization of COVID-19 stigma. She is currently serving on Fordham's Faculty Senate Salary and Benefits Committee and the President's Human Resources Considerations Task Force for the reopening of Fordham. Sameena plays jazz piano and grows orchids.