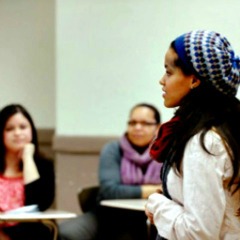 Club Amigas/Mentoring Latinas is an innovative mentoring program that brings adolescent Latinas, daughters of immigrant families, onto college campuses to be mentored by Latina college women. Mentors and mentees meet weekly at Fordham University's Rose Hill campus, where students get homework help, work at Fordham's computer lab, learn to trust and confide in their mentors and get a real taste of college life.
We offer training for mentors, field trips, cultural enrichment activities, visits to live performances and interactive sessions with successful Latinas. Each year a rigorous program evaluation is conducted.

Club Amigas also sponsors parent meetings conducted by a bilingual licensed social worker that address issues for those raising bicultural daughters.

By providing a setting for close relationships between teenage and college Latinas, Club Amigas reinforces college ambitions and fosters a healthy bicultural attitude that leads to school and social success. Since 2003, we have built confidence and college ambitions in young Latinas and helped them to overcome barriers they face in the United States. The expected result is that more Latinas will enter the workforce as confident, educated, productive young women.

Club Amigas can be replicated on any college campus located near a Hispanic community. We offer a comprehensive handbook to help in the replication process.
Mentoring Latinas In the News
Contact Us
For more information, please contact Dr. Sandra Turner, Director at [email protected].