GSE School Psychology (Ph.D.)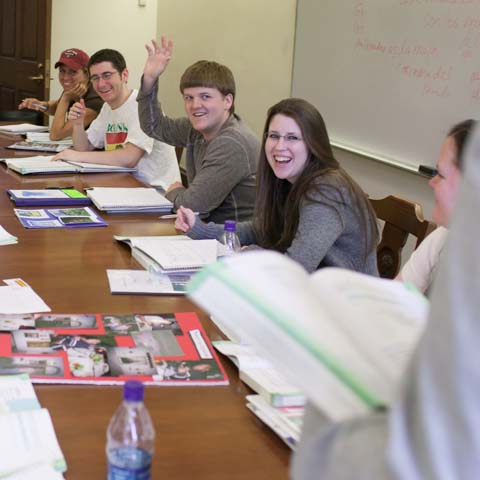 Degree: Ph.D.
Career Path: Certified, Licensed School Psychologist
Start Semester: Fall
Campus: Lincoln Center
Full-time/Part-time
The program emphasizes training that applies a scientist-practitioner model to maximize the educational and social-emotional development of children in urban settings, especially children from culturally and linguistically diverse backgrounds.
Through coursework and field experiences, the program attempts to provide students with a sensitivity and understanding of the special needs of those whose cultural backgrounds and/or language skills make their quality of education a particular challenge.
The School Psychology doctoral program is fully accredited by the American Psychological Association, approved by the National Association of School Psychologists, and registered with the New York State Department of Education for purposes of school psychology certification and professional licensing in psychology.
NOTE: The GRE test is optional for admissions to the Ph.D. program.
Students must have courses in General Psychology, Child/Developmental Psychology, Educational Psychology, Abnormal Psychology and Personality Psychology. Students who have not completed all prerequisites prior to admission must complete them during the first part of their studies. Prerequisite coursework may be completed at either the graduate or undergraduate level. One prerequisite may be met through coursework in the program/cognate.

January 15

Browse the Admissions section for more about the application and financial aid processes.

Browse course schedules and descriptions and review a list of courses.

SAMPLE COURSE SEQUENCES

Psychology Core (selected in consultation with advisor)

Cognitive/Affective Aspects of Behavior: Psychology of Cognition and Affect
Social Aspects of Behavior: Social Psychology
Biological Aspects of Behavior: Neurobiological Bases of Human Behavior
Ehtics Requirement: Psychology: History and Ethics
Multicultural Issues in Psychology : Multicultural Issues in Professional Psychology (or alternative in consultation with advisor)
Individual Differences/Human Development: Advanced Developmental Psychology

Doctoral Research Core

Quantitative Research Methods in Psychology and Education I
Quantitative Research Methods in Psychology and Education II
Qualitative and Single Case Design Research Methods I
Qualitative and Single Case Design Research Methods II
Psychometric Theory
Proseminar in Psychological and Educational Services (0 credits)
Research Apprenticeship and Research Apprenticeship II

Advanced Studies

Exceptional Developmental Differences

Developmental and Intellectual Disabilities
Emotional Disorders of Childhood and Adolescence

Professional School Psychology Core

Assessment

Advanced Personality Assessment or Personality Assessment
Advanced Personality Assessment Lab
Non-Biased Assessment and Decision-Making
Cognitive Assessment and Cognitive Assessment Lab

Intervention

Applications of Behavior Analysis in Educational Settings
Instructional Consultation
Therapeutic Interventions in the Schools
Theories of School-Based Consultation
Theories of Counseling

Professional Issues

Role and Function of the School Psychologist

Fieldwork and Internship

Integration of Assessment Techniques and Integration of Assessment Techniques Lab
Clinical Practicum in School Psychology or Clinical Practicum in Bilingual School Psychology
Consultation Practicum in School Psychology or Consultation Practicum in Bilingual School Psychology
Doctoral Externship in School Psychology
Doctoral Internship in School Psychology I
Doctoral Internship in School Psychology II

Supervision

Clinical Supervision of School Psychologists

Program Evaluation

Evaluation of Psychological Services Delivery Programs

Comprehensive Assessment

Doctoral Comprehensive Exam/Assessment in School Psychology Part I (Psychology Core)
Doctoral Comprehensive Exam/Assessment in School Psychology Part II (Research Core)
Adv Cert/Professional Practice in School Psychology Comprehensive Assessment
Adv Cert/Professional Practice in Bilingual School Psychology Comprehensive Assessment

Cognate Areas of Studies

Dissertation

Dissertation Seminar in Psychological and Educational Services
PES Proposal Acceptance
Dissertation Oral Defense
Dissertation Format Review

Total Credits: 103.5

Practica

Completion of three practica and a one year supervised internship.

Each practicum requires the students to complete a minimum of 150 hours of supervised fieldwork, in schools, clinics, and hospital settings, learning and honing their skills in consultation, counseling and assessment of children and adolescents.

Clinical Practicum: supervised experience in counseling/clinical intervention with children and youth
Consultation Practicum: supervised experiences in school-based consultation
Integration of Assessment Techniques: supervised experiences for students in psycho-educational assessment (Many students complete this practicum in The Rosa Hagin School Consultation Center at Fordham University.)

Externship
The externship requires students to complete 200 hours of supervised training in a school, hospital, clinic, or research setting. Students often decide to extend their externships beyond the required semester to gain more skills, experience and direct service hours to help make them more competitive candidates for APA internships or future employment.

Internship
The internship consists of providing psychological services under qualified supervision. The length of the internship is one full academic year or a minimum of 1,500 hours. At least 600 of the internship hours must be completed in a school setting.

Students are strongly encouraged to complete their internships at APA accredited sites, which are accessed through the Association of Psychology Postdoctoral and Internship Centers (APPIC) clearinghouse.

Doctoral Proseminar

The Doctoral Proseminar provides an orientation to the research expertise among school psychology and counseling psychology faculty for all entering doctoral students.

These weekly gatherings of students and faculty provide a forum for all faculty and students in the division to exchange ideas about psychology and the application of scientific methods to a study of human behavior.

Doctoral Residency

Doctoral students spend one year in residence. The residency program consists of two parts.

Research Apprenticeship: Under the supervision of the professor(s), students in residence become involved in designing and executing research.
Residency Seminars: Seminars in which research and leaders in education discuss their work with the assembled residency students and professors.

Doctoral Dissertation

The doctoral curriculum is designed as a five-year, full-time apprenticeship of 96 credits (excluding dissertation seminar and mentoring) for students entering with a bachelor's degree and the appropriate prerequisite competencies.

Students entering the program with advanced standing must complete a minimum of 60 graduate credits at Fordham.
American Psychological Association
Contact the American Psychological Association for more information about accreditation.
Office of Program Consultation and
Accreditation American Psychological Association
750 1st Street NE, Washington, DC 20002