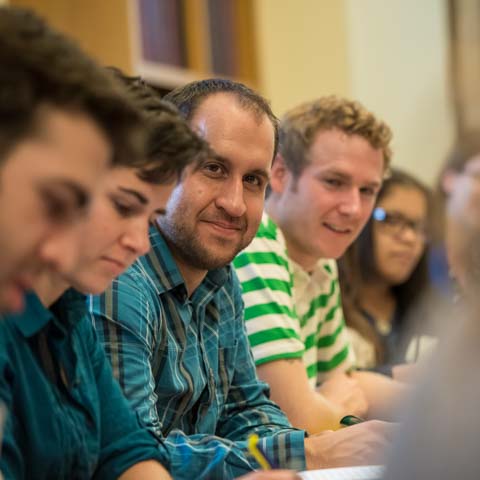 The Graduate School of Education offers various education-related programs at the master's, doctoral, and advanced certificate levels.
Our programs develop the knowledge and skills that enable graduates to be successful, reflective educators. We emphasize students' language and culture and respect the multiple voices within the urban classroom.
We believe that collaboration is key to strengthening curriculum and learning environments, so our programs emphasize strong partnerships with fellow teachers, administrators, students, parents, and community members.
Our program offerings meet the needs of students seeking initial teacher certification, as well as certified teachers seeking specialist or advanced certification.
Leaders are called upon to have vision and means for enacting that vision, an understanding of the politics and financing of their institutions, and a sense of the spiritual and moral dimensions of their organizations. Regardless of setting, leaders need an understanding of how their roles and institutions fit into a larger context, and how their actions affect colleagues, students, and the community in which they work.
We believe that leadership can be taught through proper mentoring and through instruction that blends theory and practice. By studying, teaching, and practice the latest models of organizational reform, our programs create an exciting environment for our students.
Our programs are committed to finding innovative solutions for the multifaceted challenges facing education in a technologically complex, globalized world.
Building upon Fordham's Jesuit traditions of rigorous academics, community service, and cura personalis (educating the whole person), this program creates an inclusive, dynamic, intellectual, and reflective environment that promotes inquiry and excellence.
Our programs use the scientist-practitioner model, which blends theory with practice and provide opportunities for knowledge development as well as practical skills to solve human problems. Because academic scholarship and research inform and enhance professional practice, our programs are rich research and inquiry and support psycho-therapeutic or psycho-educational intervention.
Practitioners skilled in the methods and techniques of typical services, such as program development, consultation, intervention, assessment, and evaluation, are actively involved in theory building and hypothesis generation.
Our programs seek to educate professional psychologists who are capable of linking knowledge gained through psychological science to educational efforts in contemporary society.
The programs emphasize training to maximize the educational and social-emotional development of children in urban settings, especially children from culturally and linguistically diverse backgrounds.