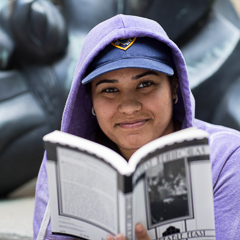 Dear students,
In light of the ongoing disruption to on-campus learning, we've partnered with our digital course material platform, VitalSource, and leading publishers to launch VitalSource Helps, a program offering free access to ebooks for students who may have lost access to course materials with the rapid move to distance learning.
If you previously accessed textbooks via the library, shared a book with a classmate, or left your books on campus, visit bookshelf.vitalsource.com to access free ebooks through May 25. VitalSource Helps provides access to tens of thousands of ebooks, but some content may not be available.
Getting Started
To access free materials, you must use your .edu email to log in or create an account. Before you get started, we encourage you to review this student FAQ.
We hope this will be of assistance to you as you continue your studies online.
Shop Online Campus Stores
Please note, our campus stores each carry a variety of separately stocked items.
Rose Hill
Lincoln Center
Westchester - Westchester coursebooks are now included under Rose Hill campus.
Textbook Ordering Information
Sign in to my.fordham and follow the directions listed in the Bookstore channel under the Student tab.
Faculty Textbook Order Information
Use our website, FacultyEnlight, to research titles and submit your coursebook information.
To email your order(s), please download and complete the order form, and send to the appropriate campus email.
Please attach and send your completed form to:
[email protected] (Rose Hill and/or Westchester)
[email protected] (Lincoln Center)
Textbook Order Timeline
Fall semester book orders are ideally due April 15.*
Spring semester book orders are ideally due before the end of November of the previous fall term semester.*
Summer semester book orders are ideally due April 1.*
*Please Note, we understand that it is not always possible to submit information strictly under this time frame and will always send reminder emails to you with specific due dates for each term."
View the Textbook FAQ YouTube - I Speak Textbook series.
For department personnel submitting course orders on behalf of multiple professors, please contact Tina Hart at [email protected] or [email protected].
Return Rented Textbooks
In light of the University canceling face-to-face classes, we understand that returning rented books at the end of the semester may pose a challenge to students. As a response to this our bookstore has created a prepaid UPS shipping option that can be leveraged by the students to return their rented books. See How to Ship Your Rentals to the Bookstore.
Bookstore Liaison for Faculty
Diana Lulgjuraj serves as the designated University liaison between faculty and the B&N College Bookstore.
Faculty with concerns regarding the Bookstore should contact:
Diana Lulgjuraj
Director of Strategic Sourcing and Office Services
Faculty Memorial Hall, Rm. 131
718-817-4914
[email protected]
Faculty with general questions about the Bookstore should contact:
Elizabeth McLeod - Rose Hill campus
718-817-3400, [email protected]
Tina Hart - Lincoln Ctr. campus
212-636-6080, [email protected]