Sustainability at Fordham
In keeping with the Jesuit traditions of the pursuit of wisdom and learning, education of the whole person and respect for the environment, we recognize the value of minimizing our environmental impact.
We will endeavor to design, construct and maintain our buildings, infrastructure, and grounds in a manner that ensures environmental sustainability and demonstrates sustainability best practices in a broad range of areas.
Cost-effective energy reduction initiatives will be implemented to reduce our impact by minimizing energy consumption. We pursue alternative energy strategies, including new technologies, as they become more available.

Progress Achieved

The University completed two strategic Light Emitting Diode (LED) re-lamping initiatives on the Rose Hill and Lincoln Center campuses in 2015, which has helped the University conserve 712,000 kWh of energy annually. Upgrades in lighting initiatives were completed in 39 buildings on the Rose Hill and Lincoln Center campuses.


New steam boilers that are 15% more efficient are being installed at the Rose Hill campus, and campus building HVAC systems will be converted to electric heat pumps and geothermal over time, thus significantly reducing the amount of fossil fuels consumed.

Our operations will endeavor to recycle as much material as possible, in line with commonsense operational requirements. We will also explore all avenues to reduce waste and to purchase renewable and reusable products. We will educate and train our students, staff and faculty in all aspects of this work.

Progress Achieved

In 2015, over 208,000 lbs. of paper, cardboard, plastic, glass & metal was recycled and diverted from the University's waste stream.
Over 90,000 lbs. of construction related debris was collected and recycled from the 2012 renovation of Hughes Hall.

We will work to reduce the environmental impact of our vehicle fleet, encourage vendors to consider the same and promote the use of public transportation.

Progress Achieved

Fordham's Department of University Transportation has converted its entire vehicle fleet of vans (50+) to biofuel. These vans provide transportation between our Bronx Rose Hill campus garage and our Lincoln Center campus, transporting employees and students who otherwise might have used their cars to travel between campuses. Fordham will shift its vehicle fleet to primarily electric vehicles (EV's) as EV technology evolves. Currently, the University has 20 EV's in its fleet. EV charging stations are installed at the Rose Hill campus garage, with more planned.
We will measure and implement methods to reduce our carbon footprint, working to meet the City of New York's program, NYC Carbon Challenge, for carbon reduction of 40 percent by 2030.

The University will work with local institutions and City agencies such as the Bronx Zoo, the New York Botanical Gardens, the City of New York, and others to coordinate our sustainability efforts, enhancing our impact through strategic partnerships and programs.

Fordham University will advance understanding of environmental change through its curriculum and academic programs, including, but not limited to, the following programs:

In 2021, Fordham's Gabelli School of Business provided an online course in organizational sustainability for working professionals to train thought leaders with the necessary analytical tools to originate, market, and lead sustainability initiatives in a variety of professional contexts.

Fordham's Gabelli School of Business is making the case that sustainability is good for the environment—and business. "Leading Toward a Finer Future," a four-day intensive master class, aims to prepare graduate and undergraduate students for leadership in the sustainable business field.

In 2020, the Gabelli School of Business officially announced the launch of the Responsible Business Coalition (RBC), an incubator that combines the power of industry and academia to identify and implement sustainable business solutions for some of the world's most challenging environmental and social problems. The goal of the RBC is to improve the environmental, social, and governance (ESG) impact of industries worldwide and to foster values-based education.

Environmental Studies, a Science and Humanities program, has been offered at Fordham since 2002. Within this major, students tackle the most pressing issues of our times: climate change, habitat loss, mass species extinction, natural capital degradation, environmental health, environmental justice, and building sustainable societies.
Green Buildings
All new buildings will be designed from an energy standpoint to achieve the U.S. Green Building Council's Leadership in Energy and Environmental Design (LEED) New Construction Silver rating, ensuring that all new properties are environmentally responsible.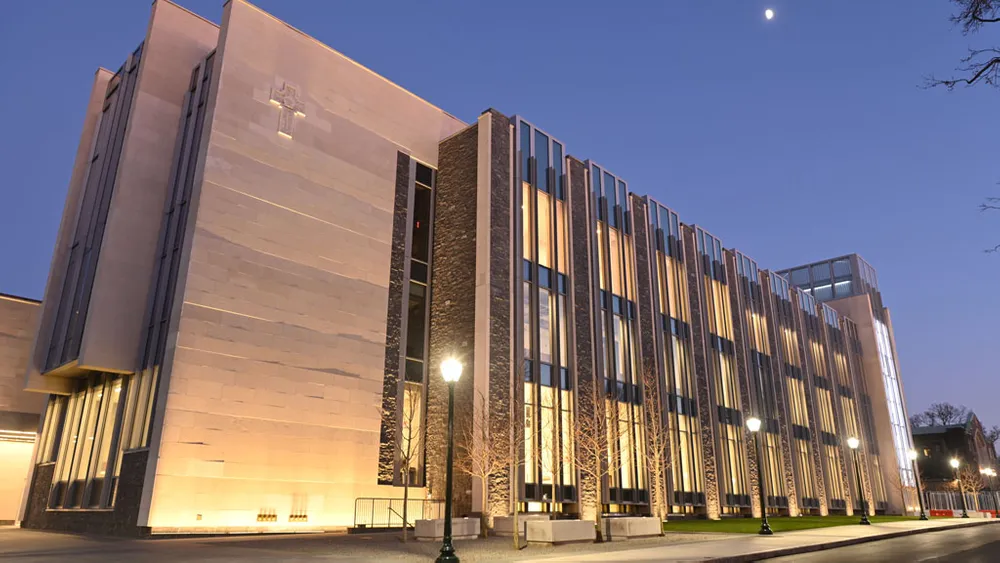 New Campus Center Addition
The new campus center addition at the Rose Hill campus was designed to LEED standards and uses passive heating and cooling technology. It is currently under construction and anticipated to be completed by 2025. In addition, all renovations of existing facilities will meet or exceed LEED for the existing buildings criterion.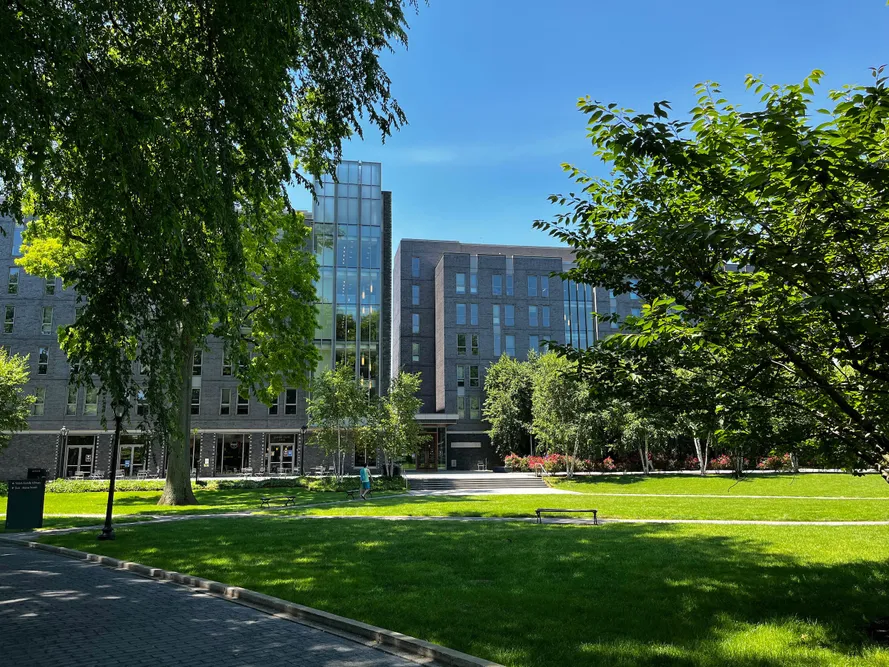 LEED Gold Certification
Campbell, Salice, and Conley halls, a 172,265 GSF residential complex the University dedicated in 2010, achieved LEED Gold Certification.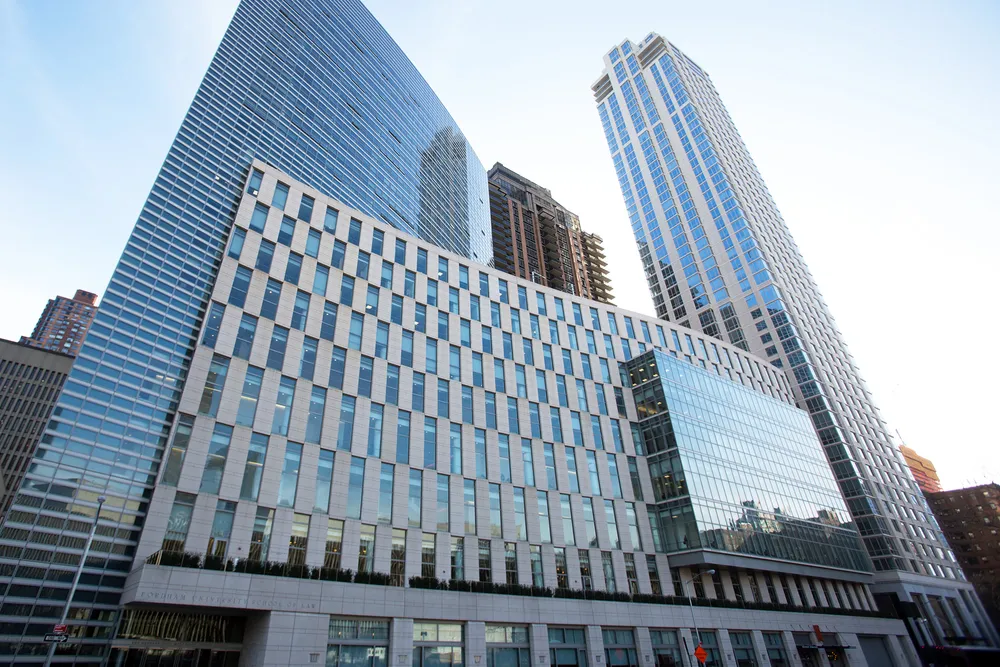 LEED Silver Certification
The Law School building and McKeon residential tower are Fordham's newest LEED Silver certified buildings. The new facilities have added more than 415,000 square feet of residential and academic space to the Lincoln Center campus.