Student Sustainability Committee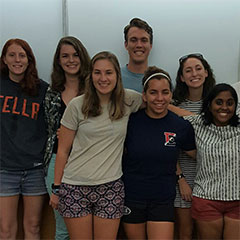 The Student Sustainability Committee is a permanent external subcommittee of the United Student Government. It also serves as the student partner to the University Sustainability Council which brings together administrators, faculty members, and both undergraduate and graduate students from within the University community.
Members of the committee work in collaboration and seek to promote sustainable living by engaging their undergraduate peers.
The core mission of the Student Committee is focused on achieving the following goals.
Find new opportunities to help increase campus sustainability
Create and foster a culture of sustainability among the student body. We work with administrators and student organizations to further these goals.
Accomplishments
Organizing a student led sustainability week on campus.
Worked in collaboration with the Department of Campus Operations to distribute plastic bag recycling stations in each of the undergraduate residence halls on the Rose Hill Campus.
Also in collaboration with Campus Operations, the committee was able to provide recycling bins in for each student dorm room and apartment on the Rose Hill Campus.
Current Projects
Developing a comprehensive sustainability education outreach program.
Initiate an eco-reps program for residence halls on both he Rose Hill and Lincoln Center Campuses.
We are also seeking trying to organize a student led on-campus composting program.