Fordham provides courses in ethical, economic, and scientific principles that challenges and offers our students an opportunity to engage in environmental education and research. Sustainability is brought to life in the classroom and students are encouraged to explore through a variety of lenses the impact that environmental degradation is having on our planet and the human family.
As a Jesuit institution of higher learning our faculty challenges our students to be transformed and empowered by their education. Fordham students are encouraged to manage and promote enterprises that are profitable and socially and environmentally responsible.
Our four undergraduate colleges and six graduate schools don't just teach the nuts and bolts of our fields.
We work toward an enlightenment that comes from understanding how our world is connected and your place in it.
Social Science Coursework
Introduces sustainability concerns related to globalization, poverty, and inequality.
Natural Science Coursework
Fosters an understanding of the delicate balance of the natural and human worlds and will promote a better understanding of waste generation processes and impacts.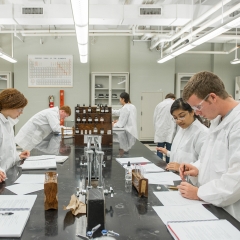 Design Curricula
Promotes an awareness of the need for the built environment to accommodate a substantially reduced carbon footprint and to foster a more sustainable use of land areas for growing populations.