Student Clubs, Centers and Consortia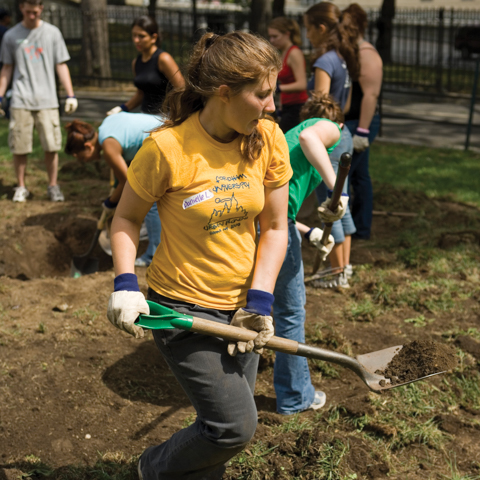 Student Clubs
Fordham Graduate Net Impact Club
Is a student-run club at the Gabelli School of Business that promotes socially responsible and environmentally sustainable practices in business. We are a part of a global community of mission-driven Net Impact Chapters determined to make a difference! Our chapter is locally organized and focused on the interest of our community by aligning the vision of mobilizing next-generation leaders in order to use their skills and careers to make a positive impact on the world.
Our Mission: Support Fordham students in exploring and advancing careers focused on developing innovative business solutions that are financially advantageous while also producing positive social and environmental returns. The driving force behind every engagement and activity is social innovation.
Amani Students for Fair Trade
The heart of the program is the Fair Trade and Microfinance Consulting Project. Through this effort, a select group of students hone their business acuity through hands-on sales, inventory, accounting, and marketing of close to 100 products from artisan groups in developing countries like Kenya. The students meet these artisans during overseas trips and then bring back the products, which are then offered by their ISL company, called Amani, which means "peace" in Swahili.
Environmental Club
Environmental Law Advocates
The aim of this organization is to provide students at Fordham University School of Law with an opportunity to become involved with issues of environmental concern both on- and off-campus. Our goals are to provide students with an opportunity for activism in a legal capacity, to educate the Fordham community with regard to pressing environmental issues, to provide students with enjoyable activities that expose them to the natural world, and to create a forum that will meet the evolving needs and interests of the students this organization serves.
Fordham Environmental Law Review
The Fordham Environmental Law Review is a student-edited journal focusing on a broad range of domestic and international environmental issues ranging from the regulation of air, water, and soil pollution to social policy issues such as corporate responsibility and environmental racism.
Centers and Consortia
Center for Community Engaged Learning
The Center for Community Engaged Learning is grounded in the Jesuit philosophy of homines pro aliis, men and women for others. We work to create mutually beneficial relationships rooted in a respect for the dignity of all persons.
The Center for Urban Ecology (CUE)
The Mission of the CCEUE is to promote individual and collaborative research in integrated fields within ecology, evolution, and conservation. The CCEUE also addresses the effects of climate change and urbanization on regional ecosystems and the roles of humans in physiological, ecological and evolutionary processes.
The Center for Ethics Education at Fordham University
The Center was established to augment Fordham's commitment to cultivate life-long habits of critical thinking, moral reflection, and articulate expression, drawing upon the Jesuit maxims of Wisdom and Learning and Men and Women for Others. The Center provides a broad range of multidisciplinary ethics education opportunities, including degree programs, major lectures and support for ethics research and scholarship.
Consortium on Social Justice
The Consortium's mission is to promote communication and linkages about social justice issues within the Fordham University community, and this monthly Newsletter is designed to help connect the University community with the broad array of social justice and poverty-related efforts undertaken throughout the University.