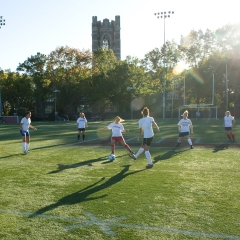 Welcome to Fordham University Intramurals! We provide up-to-date schedules, results, rules and special announcements.
Who Can Play
Fordham University Athletics prides itself on a recreational sports program tailored to the needs of the student body, faculty, and staff. Any member of the Fordham University community may compete in Intramural events.
Sign Up or Join a Sport
Rules
The spirit of Intramural competition is fun. Rules of conduct and fair play aid in that goal. You are responsible for knowing and understanding all the Rules of Intramurals and individual sports before beginning league play. Intramural supervisors and game officials adhere to and enforce all Intramural rules.
Important Intramural League Dates
Intramural Leagues
Basketball
| | Registration Opens | Registration Closes | Regular Season | Playoffs |
| --- | --- | --- | --- | --- |
| Men's Basketball | 9/1 at 10:00am | 9/8 at Midnight | 9/17 - 11/21 | 11/26 - 12/8 |
| Women's Basketball | 9/1 at 10:00am | 9/8 at Midnight | 9/17 - 11/21 | 11/26 - 12/8 |
| Open Basketball | 9/1 at 10:00am | 9/8 at Midnight | 9/17 - 11/21 | 11/26 - 12/8 |
Volleyball
| | Registration Opens | Registration Closes | Regular Season | Playoffs |
| --- | --- | --- | --- | --- |
| Open Volleyball | 9/1 at 10:00am | 9/8 at Midnight | 9/17 - 11/21 | 11/26 - 12/8 |
Flag Football
| | Registration Opens | Registration Closes | Regular Season | Playoffs |
| --- | --- | --- | --- | --- |
| Men's Flag Football | 9/1 at 10:00am | 9/8 at Midnight | 9/17 - 11/21 | 11/26 - 12/8 |
| Open Flag Football | 9/1 at 10:00am | 9/8 at Midnight | 9/17 - 11/21 | 11/26 - 12/8 |
Outdoor Soccer
| | Registration Opens | Registration Closes | Regular Season | Playoffs |
| --- | --- | --- | --- | --- |
| Open Outdoor Soccer | 9/1 at 10:00am | 9/8 at Midnight | 9/17 - 11/21 | 11/26 - 12/8 |
Tennis
| | Registration Opens | Registration Closes | Regular Season | Playoffs |
| --- | --- | --- | --- | --- |
| Open Tennis | 9/1 at 10:00am | 9/8 at Midnight | 9/17 - 11/21 | 11/26 - 12/8 |