Diversity, Equity, and Inclusion at Fordham
Building a University for All of Us
Race, gender, culture, sexual orientation, gender identity, socioeconomic status, religion: Fordham is committed to diversity in all dimensions. Working to understand and respect that which makes each of us unique is an essential part of a college education. It's part of our Jesuit mission, to be both Catholic and catholic: a community that welcomes and honors all who come to us—whether as students, faculty members, or members of our staff.
We pledge to treat and to surround every member of the campus community with reverence, respect, and deep affection.
- Joseph M. McShane, S.J.
Addressing Racism, Educating for Justice
The protests that have occurred across the country and that have brought together people from every race, ethnicity, religious affiliation, and age group in the aftermath of the brutal killing of George Floyd are both a cry of the heart coming from a community that has been the victim of systemic racism for our entire history, and a call to a national examination of conscience on race relations and on racism itself. And a call to action for Fordham.
View Fordham's 2020 Action Plan View Anti-Racism Resources View Anti-Asian Racial Violence Resources
A call to action for Fordham: The Work of Anti-Racism: A Conversation with Anthony Carter and Rafael Zapata
Call for Proposals: Teaching Race Across the Curriculum (TRAC) Grant Funding
Faculty Senate
The Faculty Senate has also been working with various constituencies across the university to foster dialogue around issues of diversity. In the fall of 2015, the Faculty Senate renewed the charge of the Task Force on Gender and Race Equity and Faculty Diversity and Retention. The Senate convened a joint meeting of the Senate Task Force, the Faculty Life Committee, and the Student Life Committee. In November, at the Senate's invitation, six undergraduates spoke about their experiences of diversity at Fordham.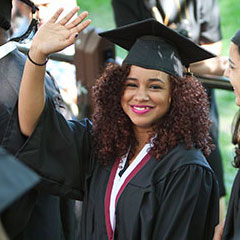 Student Support Programs and Services
Inclusive Pedagogy and Student Engagement
Diversity Related Policies, Guides, and Reports