Higher Education Opportunity Program (HEOP)
In 1969, the New York Legislature mandated the creation of the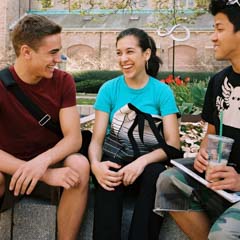 Higher Education Opportunity Program (HEOP). The purpose of the Program is to provide students who demonstrate potential for academic success with the educational supportive services and supplementary financial assistance they need to become successful college students. Since its inception in 1969, HEOP has been an integral part of Fordham University. The support services of HEOP are partially funded by a grant from the State Education Department of New York.
HEOP Eligibility
To qualify for HEOP, an applicant must:
Have graduated from high school or earned a General Equivalency Diploma (GED) before matriculation to Fordham University
Be a New York resident
Meet both academic and economic requirements as described below
Academic Requirements
Applicant must be inadmissible by Fordham University's traditional admission criteria
Applicant exhibits the potential to be successful in Fordham University's undergraduate programs
Economic Requirements
Applicants must meet the Income Eligibility requirements as set by New York State.
New York State Opportunity Programs Income Eligibility Criteria 2022-2023
Household Size
2020 Income
1 Person in Family/Household
$23,828
2 Persons in Family/Household
$32,227
3 Persons in Family/Household
$40,626
4 Persons in Family/Household
$49,025
5 Persons in Family/Household
$57,424
6 Persons in Family/Household
$65,823
7 Persons in Family/Household
$74,222
8 Persons in Family/Household
$82,621*
*Add $8,399 for each family member in excess of eight.
Support Services
Fordham's Higher Education Opportunity Program provides students with educational support services and supplementary financial assistance.
Summer Program
HEOP students must attend a six-week summer program before the start of their first year. This helps students get adjusted to the demands of college.
Academic Support
HEOP students have access to a variety of tutoring services, including a writing specialist. With the Writing Specialist, students have the opportunity to work on essay drafting and revision, creative projects, and professional/academic application materials. The Writing Specialist also oversees the Tutoring Services Program and ensures that students have access to a tutor from any academic field they request.
Advising
HEOP students receive tailored guidance and advising during their time at Fordham. Students are assigned a counselor by class, whom they are required to meet with frequently.