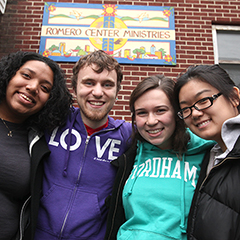 Corona Virus Digital Program and Student Support Updates
The Office of Multicultural Affairs is available to support students during this difficult transition period onto online instruction. There are a few ways we will be doing this.
OMA is working with both our Women's Herstory Month and Asian American and Pacific Islander Heritage Month student committees to provide increased educational social media campaigns and some virtual programs and events to maintain student engagement.
The office will also be hosting various weekly student engagement opportunities including "Get to know OMA" on Instagram, Diversity Student Hangouts on Zoom, and Digital Dialogues focused on different topics.
For updates event updates, follow us on Instagram @FordhamOMA or email us based on your campus to be added to our newsletter. Students can also communicate with the OMA staff via the same emails below if there are general questions or concerns.
Rose Hill: [email protected]
Lincoln Center: [email protected]
You can also call the office lines between 9 a.m. - 5 p.m. for any further assistance
Rose Hil: 718-817-0664
Lincoln Center: 212-930-8834
The following programs and initiatives align with departmental goals and will be revisited for the 2020-2021 academic year:
Multicultural and Intercultural Competence
Network Programs:

The LGBTQ and Ally Network of Support
Racial Solidarity Network

Diversity training for student leaders and staff
Diverse Student Engagement
Cultural Programming Coordinators (CPCs)
Heritage Month Student Committees
Undergraduate student cultural club support
Welcoming and Inclusive Environment - Heritage Programming
Heritage Month events and programs

Fall: Latinx LGBTQ, Native and Indigenous
Spring: Black, Women, Asian and Pacific Islander

Ongoing cultural events and programs