The Green Space Initiative at all campuses uses good stewardship practices to maintain all green spaces and buildings:
More than 600 cubic yards of leaf and debris are composted annually in cooperation with the New York Botanical Gardens
An integrated pest management program has been instituted to reduce the amount of inorganic fertilizer
The Rose Hill campus has one of the largest collections of mature American elms (Ulmus Americana), the oldest of which is estimated to be 270 years
Use of low flow irrigation systems on all campuses
The University has adopted a uniform recycling program that focuses on increasing the rate of diverted recyclables
Certified green cleaning products are used in the daily maintenance of all residential, academic and athletic facilities on all campuses
Use of Magic Salt on grounds which is less corrosive, safe for concrete and brick and environmentally friendly
Rose Hill
Rose Hill, the original campus of Fordham University, is adjacent to the New York Botanical Gardens and the Bronx Zoo. It is situated on 85 landscaped acres in the Bronx. There are a total of 35 buildings on campus with approximately 2 million square feet of space. The campus has more than 350 mature trees, including elm, oak, maple and beech.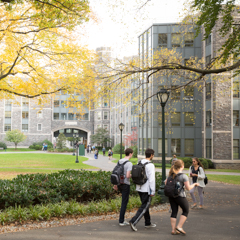 Lincoln Center
Lincoln Center, established in 1961, is adjacent to Lincoln Center for the Performing Arts. At the heart of the Lincoln Center Campus is Robert Moses Plaza which is a green roof that covers the Quinn Library and serves as a gathering space for the University community and its neighbors. The campus is served by 5 buildings with a total gross square footage of 1,236,386.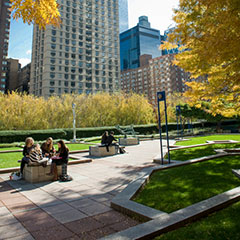 The Louis Calder Center
The Louis Calder Center is a biological field station established in 1967 for ecological research and environmental education. The Calder Center consists of 113 forested acres maintained in a natural state, with 13 buildings totaling 37,630 gross square feet. The Calder Center provides opportunities for undergraduate and graduate students to gain hands-on skills in field biology and environmental studies. The Calder Center is one of the few field stations in North America with relatively undisturbed communities near a large urban center.