The Center for Educational Partnerships at GSE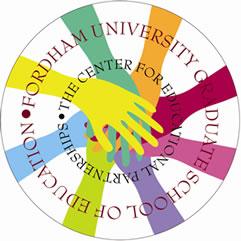 We are, first and foremost, a group of scholars and practitioners who are committed to applying cutting-edge research. We are dedicated to applying that research in the service of K-12 teachers, administrators, students, and parents, as well as to sharing it with education and government agencies that enable all children to achieve and succeed academically.
Under the direction of Anita Vazquez Batisti, Ph.D., Associate Dean for Partnerships, we have grown rapidly, forging partnerships with the New York City schools and the New York State Department of Education. The center has myriad grant projects that total millions of dollars and a staff of over a dozen people.
A particular focus of the center's projects is urban education, with the goal of bringing critical resources and expertise to bear on services to those student populations most at-risk of academic failure.
The Center for Educational Partnerships is a great step forward for the Graduate School of Education, which is and always has been a service school and a partner school. This is what Fordham is about, teaching teachers and helping them set hearts on fire in their students, so that a greater city and a greater nation can be built.
- Joseph M. McShane, SJ
President of Fordham
Anita Vazquez Batisti, Ph.D., Associate Dean, Director, Center for Educational Partnerships.
Anita Vazquez Batisti is the Associate Dean and founding Director of the Center for Educational Partnerships (CEP) at Fordham University's Graduate School of Education, which presently serves over 8,800 K-12 teachers, 400 administrators, and over 550,000 students in public, private, and charter schools throughout NYC and the greater metropolitan area.
During the course of her career, Dr. Batisti has served as an administrator, educator, and development specialist for New York City Community School Districts, the New York City Department of Education, Fordham University, Pace University, New York University, The United States Department of Education, the Kennedy Center for the Performing Arts, and not-forprofit organizations. Dr. Batisti's experiences highlight her ability to understand the complexities and subtleties of both urban and suburban school systems, related service providers, and empowered networks. She has raised over $290 million from public and private sources.
The scope of Dr. Batisti's teaching and administration experience encompasses work in Districts 1, 2, 4, 5 (Manhattan), including her responsibilities as Director of Development and Reimbursable Programs for District 2. Dr. Batisti has over 25 years of experience in higher education, both at the Metropolitan Center for Urban Education at NYU's Steinhardt School of Education and Fordham University's Graduate School of Education.
When planning and seeking out resources, Dr, Batisti prioritizes the needs of at-risk students and underserved communities. Evidence of this can be seen in the initiatives and programs she has created and sustained in her role as Associate Dean and Director of the Fordham University Graduate School of Education Center for Educational Partnerships: namely, the first Bronx Regional Bilingual/ESL Technical Assistance Center serving the entire borough exclusively; the Lower Hudson Valley Bilingual/ESL Technical Assistance Center; Bilingual School Psychology Support Center; Long Island/ Westchester Bilingual Education/ESL Teacher Leadership Academy; Mathematics and Literacy Coaching; Fordham Partnership Support Organization, a Center Initiative that put Dr. Batisti inside more than 35 New York City public schools as Network CEO; Regional Bilingual Education Resource Network; Community School Technical Assistance Center; Professional Development Resource Center for Independent and Religious Schools; CARES Act; "STOP School Violence": - U.S. Department of Justice.
See Anita's full bio and Our Staff.
---
Center Initiatives
Serves NYC Region
Provides targeted assistance to schools and advances the community school model regionally

serves PS 85X and MS 331X
partners to implement the community school strategy

serves NYC and Long Island regions
provides workshops and direct funding

serving metropolitan area and beyond
provides through contracts with schools and districts

serves 8 schools per year over 3 years (24 total) in the Bronx with 16 workshops each
partners with Bronx Executive Superintendent and Borough School Safety to build capacity to prevent violence

serves NYC Region all public, non-public, and charter schools (~2600) and over 159k English Learners
provides targeted assistance to schools and regional professional development workshops

For Religious and Independent Schools

serves 850 schools in the NYC Region in-person and statewide online
provides professional development workshops, institutes, and conferences