Administration and Supervision (Ph.D.)
Church and Non-Public School Leadership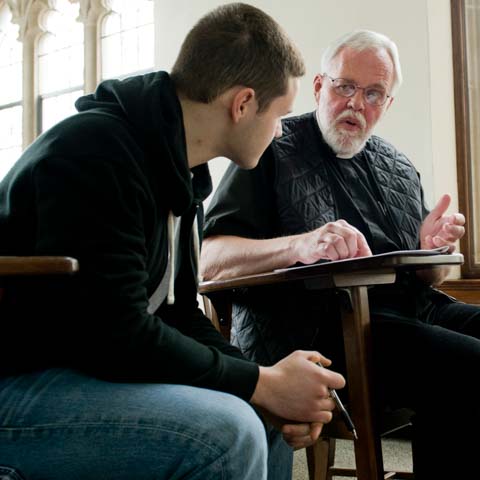 Degree: Doctor of Philosophy (Ph.D.)
Credits: 54-57
Career Path: Executive leadership positions in faith-based educational institutions
Start Semester: Fall
Campus: Lincoln Center
Part-time
Application Deadline: Rolling Admissions
Browse the Admissions section for more about the application and financial aid processes.
Faith-based leadership demands leaders with an authentic spirituality grounded in the teachings, tradition, and wisdom of faith. In addition, leaders must be well educated, highly creative and innovative, relationally and politically astute, and exceptionally global in thought and action.
Learn more in this student video
The Center for Catholic School Leadership and Faith-Based Education has been an international pioneer and leader of significant research, and innovative programs and partnerships with Archdioceses and other faith-based institutions. Under the Graduate School of Education, the Center offers a doctoral degree program specifically crafted through the lens of Catholic identity, mission, and culture.
The program is organized as a cohort model with 12 to 20 students who take courses together at Fordham's Lincoln Center campus. New cohorts begin each September. Classes meet on Friday evenings and Saturdays when appropriate. During the summer, there are intensive week-long institutes and opportunities for international study.
Program Prerequisites
Applicants must meet the general requirements for admission to doctoral study in the Graduate School of Education and these program-specific requirements:
A master's degree from an accredited college or university with a major of concentration in an appropriately related area, earning a GPA of 3.5 or better;
Three years of appropriate professional experience;
Evidence of leadership potential, seriousness of purpose, and effective communication skills;
A satisfactory command of oral and written English;
Two references; and
A satisfactory score (optional) on the Graduate Record Exam (GRE) or the Miller Analogies Test (MAT) with test scores less than five years old.
Program Curriculum
Contact