Innovation in Curriculum and Instruction Ph.D.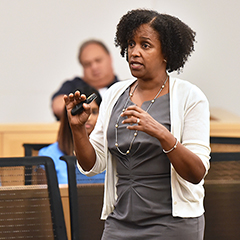 The Doctor of Philosophy (Ph.D.) in Innovation in Curriculum and Instruction (ICI) promotes pedagogy as inquiry and research that informs the creative design of instruction and curriculum to challenge educational inequalities and transform learning and teaching in inclusive and diverse learning environments.
Through an innovative and collaborative approach to research, candidates will explore critical questions in different fields of knowledge including special education; bilingual and multilingual education; language and literacy; Science, Technology, Engineering, Arts, and Mathematics (STEAM); urban education; race, culture, and equity; and innovative and creative pedagogies.
In this program, candidates will engage in culturally responsive pedagogy and inquiry that will prepare them to:
Educate for social justice and equity
Create and design innovative curriculum to build transformative and inclusive educational communities
Critique and design educational models to promote positive educational outcomes
Assume an action-oriented approach that links theory and practice to positively impact diverse educational communities
Graduates from this Ph.D. program will be prepared to become leaders in a variety of academic and research positions in both traditional and nontraditional educational settings. Read more below:
Recent Faculty and Student Presentations
Acharya, N. (Accepted - 2022). Increasing student engagement through data-sharing of student work completion percentages. Council for Exceptional Children. Virtual.
Carniaux, D. (2023). Teaching Homer's Odyssey through Anti-Racist and Anti-Oppression Lenses [Demonstration]. National Council of Teachers of English, Conference.
Clarke, T.C. (2022, November 11-13). Cultivating the genius of multilingual learners: Translanguaging as a bridge to academic writing [PowerPoint slides]. The New York State Reading Association 2022 Annual Conference, Syracuse, NY.
Clarke T.C., Niewiadomski, R., Quiroz, L. (2022, May 4). Channels of communication in multilingual communities: Insights from an early childhood education program. [Poster presentation]. Fordham University, Graduate School of Education, Doctoral Student Retreat and Research Celebration, New York, NY.
De Jesús, A., & Moldavan, A.M. (2022). Innovative Schools Summit, New York, NY - February 23 - 25. Topic: Students' Social and Emotional Learning Through the Use of Advisory and Model Classrooms.
Dimoulas, I., (2023). STEAM Education: Transforming teacher beliefs. ASTE International Conference. Salt Lake City, Utah, USA.
Franks, A., Watson, J. (October 29, 2022). Integrating computational thinking in inclusive mathematics classrooms. Association of Mathematics Teachers of New York State, Rochester, NY.
George-Puskar, A., Panse, C., & Acharya, N. (Accepted - 2022, November). Preschool teacher transition practices to support children with disabilities: A scoping review of the literature. National Association for the Education of Young Children. Washington, D.C.
Li, Y. & Luo, X., (2022). "Adult ELLs' Preferences and Perceptions on English Learning during COVID-19: Online and Face to Face." NYS TESOL 52nd Annual Conference (Presented on November 3, 2022).
Shanahan, E., Acharya, N., Villanueva, M., & George-Puskar, A. (2022). Preschool transition practices in New York City: Qualitative interviews. New York Association of School Psychologists. Uniondale, NY.
Shanahan, E., Villanueva, M., Acharya, N., & George-Puskar, A. (2022). Preschool transition practices in New York City: Qualitative interviews. Fordham University Doctoral Research Celebration.
Shao, Yidan. (2022, November). The Balance of Language, Content, and Culture Teaching in Mandarin Immersion Classes. Powerpoint presented at the Sixth International Conference on Chinese Immersion Programs. Virtual.
Xie, Y.Q. & Wang, Y. L. (February, 2023). Involving, training, and educating parents of ELLs: A qualitative study in bilingual education. Virtually presented at the 52nd National Association of Bilingual Education (NABE) 2023 Research Institute in Portland, OR.
Zhang, C. & Goyens-Ward, D. (2022). Promoting Student Academic Success through Nurturing the Mental Health of All: An Innovative Approach. The Inaugural Rethinking Education Conference, London, England.
Recent Faculty and ICI Student Manuscript Publications
Craven, John; Franks, Asia; Johnson, Graham; Odame-Labi, Juliana; Watson, Jackie. "A Place to Begin: Innovative Mindsets" Innovative Trends and Educational Technology in Higher Education, edited By Roberto Alonso Gonzalez-Lezcana & Senol Orakci, Information Age Publishing, 2023.
De Jesús, A., & Moldavan, A.M. (2022). Book Review: Going Gradeless, Grades 6–12: Shifting the Focus to Student Learning. Excelsior: Leadership in Teaching and Learning, 14(2), 150-157.
Moldavan, A.M., Franks, A., & Richardson, M. (2022). Fruitful Fraction Models with Digital Tools. Ohio Journal of School Mathematics, 90(1), 33–43.
Um, R., Szczygiel, V., Li, Y., Luo, X., & Hooley, L. (2022). Factors of Student Satisfaction in Online Teacher Education Programs. Society For Information Technology and Teacher Education.
Xie, Y.Q. (2022). Teaching culture using the IMAGE model in the TESOL classroom. The Teacher Trainer Journal, 35(3), 26-29. ISSN 0951-7626.
CONTACT
GSE Admissions
113 West 60th Street
Suite 1108
New York, NY 10023
212-636-6400
Fax: 212-636-7106
[email protected]
or
Annie George-Puskar, Ph.D.
Assistant Professor
212-636-6447