Innovation in Curriculum and Instruction Ph.D.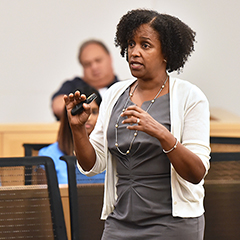 The Doctor of Philosophy (Ph.D.) in Innovation in Curriculum and Instruction (ICI) promotes pedagogy as inquiry and research that informs the creative design of instruction and curriculum to challenge educational inequalities and transform learning and teaching in inclusive and diverse learning environments.
Through an innovative and collaborative approach to research, candidates will explore critical questions in different fields of knowledge including special education; bilingual and multilingual education; language and literacy; Science, Technology, Engineering, Arts, and Mathematics (STEAM); urban education; race, culture, and equity; and innovative and creative pedagogies.
In this program, candidates will engage in culturally responsive pedagogy and inquiry that will prepare them to:
Educate for social justice and equity
Create and design innovative curriculum to build transformative and inclusive educational communities
Critique and design educational models to promote positive educational outcomes
Assume an action-oriented approach that links theory and practice to positively impact diverse educational communities
Graduates from this Ph.D. program will be prepared to become leaders in a variety of academic and research positions in both traditional and nontraditional educational settings.
CONTACT
GSE Admissions
113 West 60th Street
Suite 1108
New York, NY 10023
212-636-6400
Fax: 212-636-7106
[email protected]
or
Annie George-Puskar, Ph.D.
Assistant Professor
212-636-6447