Accelerated Master's in Teaching Program
Summer 2025 Application: Apply Now
Teacher Certification Programs for Fordham Undergraduate Students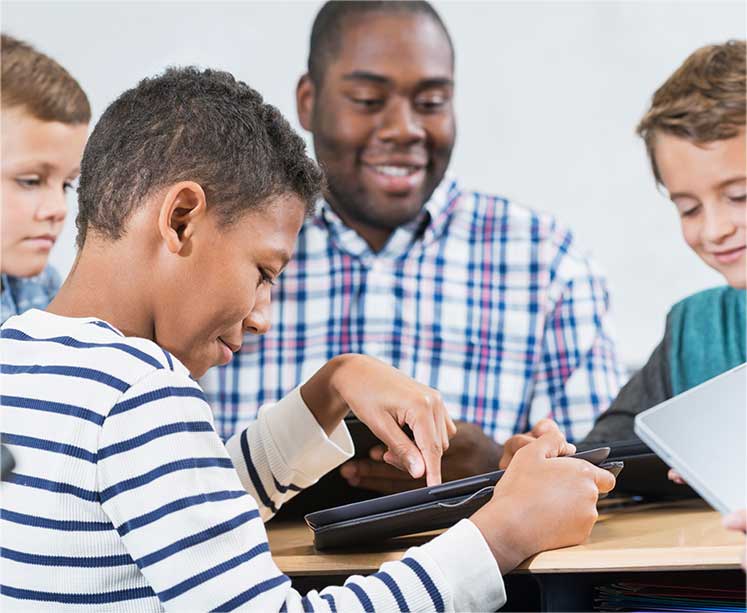 The Accelerated MST Integrated Teacher Education Track provides opportunities for Fordham undergraduates to complete a B.A/.B.S. in a liberal arts and sciences major and a Master of Science in Teaching (M.S.T.). Students must enroll in the program prior to their senior year of undergraduate work in order to take advantage of fulfilling 12 graduate credits as an undergraduate.
The integrated track is based on a reflective practitioner model with cohorts of students progressing through a sequence of coordinated courses and field experiences designed to link theory and practice.
Why should I apply for the Accelerated MST Program?
The Accelerated MST Program is a time-efficient and cost-effective way to earn both a bachelor's and a master's degree. The Graduate School of Education works to prepare and develop highly qualified teachers who are committed to reflective practice, lifelong learning, professional and school excellence, respect for individuals in a multicultural society, and excellence in academic disciplines.
Watch four student testimonials at the below links:
New York State Licensing
Fordham faculty support students in the process of obtaining their certification through the New York State Education Department (NYSED).
Scholarships and Graduate Assistantships
Our Director of GSE Financial Aid is available to discuss scholarships and assistantships available to students.
Application Deadline
Rolling Admissions. Students are encouraged to apply in their junior year.
Program Prerequisites
Applicants are required to have prerequisites in seven areas of study, including English literature, math, science, foreign language, writing or communications, artistic expression and social sciences. More information about requirements for each program are explained in the GSE Bulletin.
During a student's senior undergraduate year at Fordham, completing 12 GSE credits (four courses) will save time towards completing a master's degree. Dual Certification and part time students will take more time.
General Teacher Education Program Admissions Requirements:
3.0 GPA
Online application
Official transcript(s)
Resume or Curriculum Vitae (C.V.)
Personal statement
Two letters of recommendation
M.S.T. Fieldwork Requirements
The practical application of theory, teaching strategies, curriculum construction, and behavior management is woven into student teaching throughout our program. Generally, student teaching requires one full academic year, with placements in two different grade levels. In the fall and spring semester, students complete student teaching requirements as prescribed by their program.
Students are mentored by a field specialist and placed in our high needs partnership schools in the New York City area.
Contact
For more information:
Click here or contact Professor Michael Taylor, [email protected].
The program has a two-stage admissions process.

First Stage
Preliminary declaration of interest and MST advisement

Complete a Declaration of Interest form* and submit to the FIve-Year Track Coordinator at GSE.
Meet with the coordinator for program advisement.
Plan your credit/course strategy to complete your BA/BS while integrating the 12 MST credits at GSE.
Inform your undergraduate academic advisor about intent to enter the Five-Year Track.

Once you submit the *, the coordinator will open registration for the 1-credit Field Experience Seminar. Sophomores, juniors, and seniors meet once monthly. Field Experience requires 30 hours per semester through senior year.

*Note: The is on the last page of the document.

Second Stage
Formal application to the Graduate School of Education

Apply at the beginning of the spring semester of junior year for early admission.
Complete the GSE admissions application (including personal statement, two letters of reference, resume, and official transcript from all universities attended).
Inform your undergraduate academic advisor that you submitted your application and will complete 12 GSE credits during senior year (including field experience and reflective seminar.)
Complete all liberal arts and sciences and content requirements by the end of senior year.
Maintain a minimum grade point average of 3.0 (B or better). No D grades accepted.

What do my fourth and fifth years look like?

Students apply to the Graduate School of Education (GSE) in the beginning of the spring semester of junior year. Qualified students receive early admission to a 36 or 45 credit Master of Science in Teaching (MST) Degree program.

In senior year, students can integrate up to 12 GSE credits while completing undergraduate requirements. During the 5th year (including summers), students complete the graduate credits required for the degree along with two semesters (fall and spring) of full-time field experiences and student teaching.

After completion of all program requirements at the end of the 5th year, students obtain an MST and are eligible for Fordham's endorsement for New York State Initial Teacher Certification.

NYS teacher certification requires passing a series of exams (one exam to be taken during senior year) and workshops. Exam information and fees can be found at www.nysed.gov. We provide extensive support in meeting certification requirements.

MST Programs*

M.S.T. Programs* for Dual Certification

General and Exceptional Adolescence: , , , , , , or

Extensions (available for additional credits)

*M.S.T. programs are 30-45 credits depending upon the program.

The goals of the field experiences are to:

examine your interest in teaching and to make an informed decision about teaching as a career.
gain insight into the curriculum and organization of a school, classroom or educational settings.
work with students on different age levels.
allow education faculty to learn about your disposition, motivation, skills, and suitability for teaching.
prepare you for a 5th year student teaching experience.

We require a minimum of 30 hours of fieldwork in a school or approved educational setting each semester. In choosing a site, our students look for the opportunity to be an active participant in teaching-learning and to gain exposure to diverse educational settings and age groups.