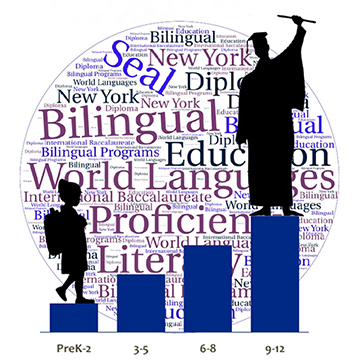 Process
Spring 2012: Introduced and referred to Education Committee, passed Assembly and Senate
Summer 2012: Delivered to Governor and signed into Law
New York State piloted this program from 2014-2015
Districts will voluntarily agree to participate in the program
The Board of Regents will regulate all guidelines as determined by the Commissioner to establish criteria that students must achieve to earn the State Seal of Biliteracy.
Purpose
Encourage students to study languages
Certify attainment of biliteracy
Provide future employers with a method of identifying people with language and biliteracy skills
Provide universities with an additional method to recognize applicants seeking admission
Prepare pupils with twenty-first century skills
Recognize the value of foreign language and native language instruction in public schools defined as any language other than English (LOTE) including all modern language , Latin, American Sign Language , Native American Languages and native languages
Strengthen intergroup relationships, affirm the value of diversity and honor the multiple cultures and languages of a community
Payoff
Proficiency in another language contributes to a pupil's cognitive development and to our national economy and security.
Proficiency in multiple languages is critical in enabling New York to participate effectively in a global, political, social and economic context
Upon graduation from high school the student will demonstrate a high level of proficiency in one or more languages in addition to English via listening, speaking, reading and writing
Districts and schools will have an opportunity to inform statewide policy development and share best practices
Consistency with the Regents Reform Agenda to ensure that all New York State students graduate from high school, college and career ready.
For additional information, please visit the NYSED Office of Bilingual Education and World Languages website.