English as a World Language MS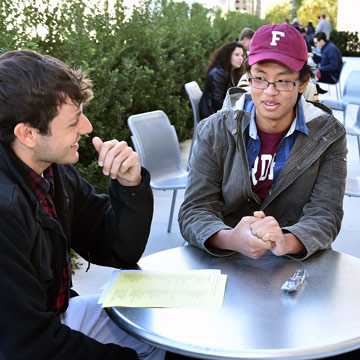 Degree: Master of Science (MS)
Credits: 30
Career Path: Teaching grades K-12 and adult students who are learning English as an additional language, in the United States and internationally
Start Semester: Fall
Campus: Lincoln Center
Full-time/Part-time: TBA
The program emphasizes research-based instructional practices that promote cognitive development and linguistic proficiency in speaking, listening, reading, and writing in English as an additional language.
It is appropriate for those who work in adult education, corporate or community education, and for international educators preparing to teach English as a foreign language. This program is available for individuals who are not pursuing a state teaching certification.
Program Prerequisites
Twelve (12) credits in a language other than English
Demonstrate proficiency in English through undergraduate coursework and the admissions essay
Candidates for whom English is an additional language are required to take and achieve a passing score on one of two tests: the TOEFL (Test of English as a Foreign Language) or the IELT (International English Language Test). The following scores are the recommended minimum, current test scores for English Language Proficiency for admission to the Graduate School of Education:

IELTS*: 7 for General Test Score. No subtest can be lower than 6.
TOEFL*: 577 for paper test, 90 for Internet-based (IBT) test.

MAT, GRE, or equivalent exam scores
*Note: Scores can be no more than two years old.
Application Deadline
General Teacher Education Program Admissions Requirements
3.0 GPA
Online Application
Official transcript(s)
Resume or Curriculum Vitae (C.V.)
Personal statement
Two letters of recommendation
Fieldwork Requirements
Requires a minimum of 10-15 hours of fieldwork per TESOL course.
Program Curriculum
Contact