GSAS Interim Dean's Welcome
Welcome to GSAS!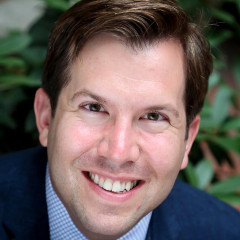 Thank you for visiting the virtual home of the Graduate School of Arts and Sciences, one of Fordham University's Arts and Sciences schools. GSAS seeks to provide its students with an outstanding experience of graduate education in the Jesuit tradition. GSAS seeks to integrate scholarship and discovery across the disciplines—the humanities, the social sciences, and the natural and applied sciences. Our firm commitment is that wisdom and knowledge, while goods in and of themselves, have their ends in the common good of all people and the world around us.
GSAS offers some forty distinctive doctoral, master's, and advanced certificate programs in fields that range from the perennial to the newly emergent. We seek to help each student develop academically, professionally, and personally in ways specific to her, him, or them, and each of our programs aims to cultivate an intellectual community that is diverse, inclusive, equitable, and collaborative.
Whether as an applicant, a current student, an alum, or a visitor, I invite you to explore the intellectual riches of the Graduate School. Please do not hesitate to contact us to learn more.
All the best,
Patrick Hornbeck, D.Phil.
Interim Dean