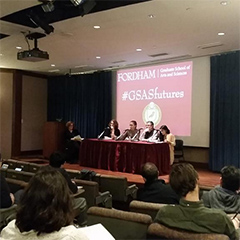 You're now a member of the GSAS community. Welcome!
Futures is here to help ensure you have the tools and support you need at every step of your academic journey, and to help fulfill our school's goal of advancing graduate education for the global good.
What is Futures?
GSAS Futures is a holistic professional development initiative that promotes career pathway preparation for our students across the arts and sciences. Adopting the view that career preparation involves a total emotional and intellectual commitment, Futures coordinates programming that encourages students to thrive while navigating the rigors of their graduate programs and thinking critically about their professional next steps.
Futures serves the graduate student body – and vibrant new workforce – of the twenty-first century, supporting empowered, motivated thought leaders with a capacity to reshape the landscape of a wide range of sectors whose innovations in technology, communications, design, and analysis call for creative minds and unexpected talents.
Futures provides para-professional training and mental health programming that enables graduate students to leverage their skills and expertise to not only respond to, but themselves take charge of, today's ever-changing workforce.
As a hub for professional development activities across the university, Futures coordinates student- and department-driven programming that includes:
Leadership Programs & Training in New Technologies
Academic & Collaborative Careers Skill-building Workshops
Networking, Career Planning, & Mentoring Resources and Events
Well-Being Events, Resources, & Graduate Working Groups
Serving Fordham's dual-campus and dynamic student body, Futures programming events are held online and on the Rose Hill and Lincoln Center campuses.
At its core, Futures is run by graduate students for graduate students. It operates with the support of the GSAS Dean's office, faculty members in academic departments across the arts and sciences, the Graduate Student Council, and other University support units such as the Office of the Chief Diversity Officer and Office of Counseling and Psychological Services.
We are here to serve you in your academic, personal and professional development. Visit our Contact GSAS Futures page to reach out with questions, comments or provide feedback.